You CAN Ski in Europe This Winter!
BETTING THE FARM ON A GREAT SKI SEASON
The 2021 / 2022 Ski Season is happening! We won't be cheated again! We lost half our winter season in 2020 and most of our winter in 2021. It's time to start enjoying life again! All our resorts in Europe are excited for us to return.
Most importantly, lives cannot remain at a standstill. Our innate nature is to travel, socialize and partake in healthy activities. It's good for our soul and well-being. Our amazing trips focus on sports in the fresh mountain air of the Alps to keep you healthy both physically and mentally. It just doesn't get better. This is a remarkable opportunity to truly experience what we call: "The Alpine Lifestyle."
Vaccination rates in central European countries are high, so risk is minimal. The EU is now open (albeit with few rules), and we have designed some of the most incredible trips for the 2021/22 ski season.
What makes Alpin Luxe trips so unique and fun?
We pair our adventures with a host of ski celebrities and Olympians from the ski world. Imagine spending a week skiing with legends like; Dan Egan, AJ Kitt, Glen Plake, Tamara McKinney, Jeff Olson, Donna Weinbrecht, Pam Fletcher, Andrea Sendlhofer and Kristin Krone. Nobody else does it like we do!
And without further ado, here is our 2021/22 season lineup: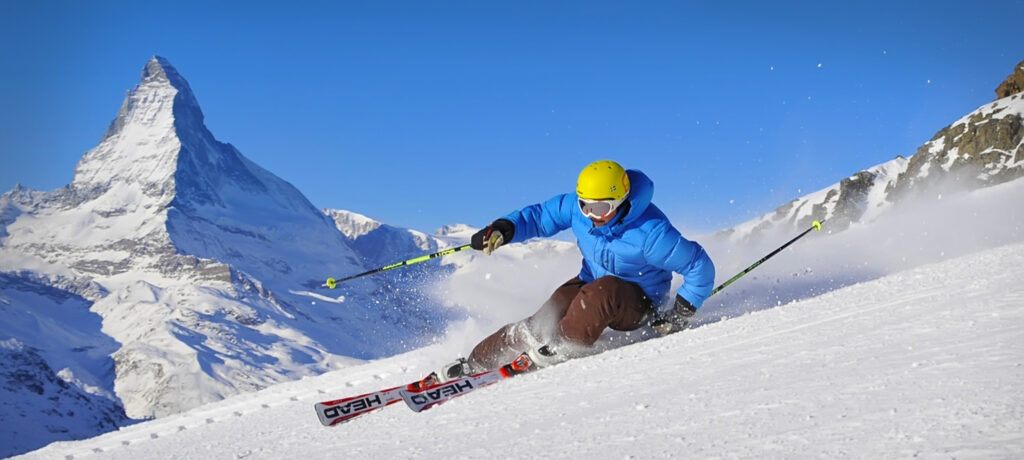 First Tracks of the Season in Zermatt w/Dan Egan
4 - 11 December 2021
Presented by: St. Bernard
As most skiers and snowboarders know, North America rarely has enough snow prior to Christmas to handle everyone who wants to get on those new boards. Therefore, we found the "secret stash" in Zermatt, Switzerland. The town is unusually quiet before Christmas and the slopes are full of snow. What – Zermatt all to ourselves? Yes! Hall of Fame Skier, Dan Egan and Olympic Alpine Ski Coach Gary Miller will be your hosts for an early season Christmas present to yourself and the chance to ski under the Matterhorn for a week! Can't make this one? Don't worry we have another Zermatt trip in March! Presented by Texas retailer, Saint Bernard, this week will be unforgettable!

The Art of Carving in LAAX, Switzerland w/Dan Egan
16 - 23 January 2022
Presented by: Alps & Meters
This is the golden opportunity to learn the "one" technical aspect of skiing that eludes most skiers. Less than 1% of the skiing public can actually carve a turn. With a trio of championship skiers / coaches, we unlock the magic of carving turns in one of the most affordable luxury ski in / ski out properties in Europe – the RocksResort in LAAX, Switzerland. With over 140 miles of ski runs and 28 state of the art lifts, stretching across 25,000 acres of magnificent snow-covered pistes, we're going to teach you the "Art of Carving." With RocksResort's 2 & 3-bedroom apartments, this the perfect trip for a group of friends or families. Presented by luxury ski and sports apparel company, Alps & Meters, every participant will receive something truly special for the week.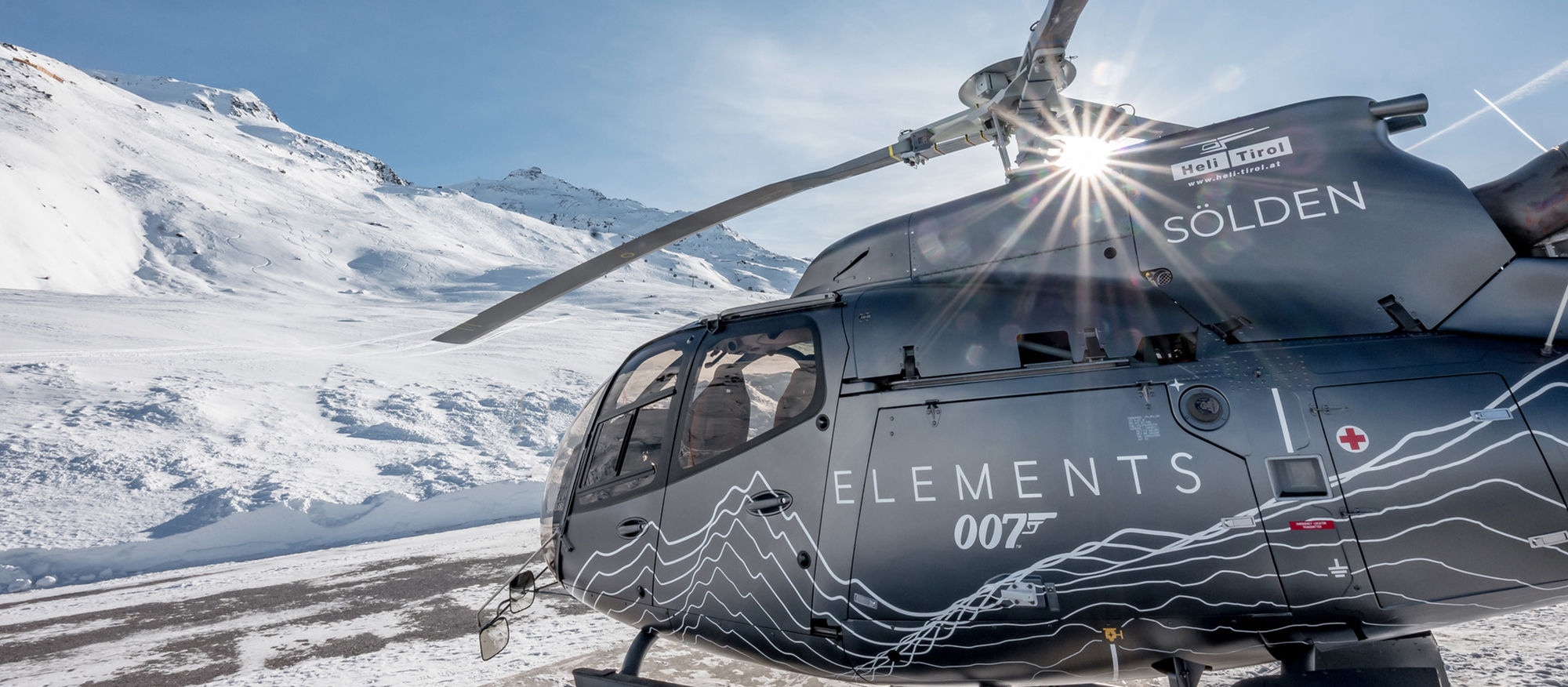 Soelden, Austria 007 Ski Experience w/AJ Kitt
29 January – 5 February 2022
Presented by: Aurak Protection
Shaken, not stirred! Experience one of our favorite hideaway ski resorts in Europe, and treat yourself to the iconic James Bond 007 VIP experience. Click here to see the video! Soelden has 5 linked ski areas, incredible hotel and spa facilities, sumptuous cuisine, Heli opportunities and was the location for James Bond 007's "Spectre" movie filmed in 2014/15.  Our home for the week is at the famed Das Central – a 5-Star Tyrolean hotel property that is simply luxurious. Our Bond Experience includes the "Elements" museum, lunch at the Ice-Q restaurant w/martini (shaken, not stirred) and Heli ride to see how they filmed the chase scene. On the other days, we cruise the slopes with our version of James Bond – 3X Olympian and World Cup Winner AJ Kitt!

The Arlberg Ski Experience in St. Anton, Austria
5 - 12 February 2022
Presented by: the next turn podcast
Join Alpin Luxe and coach Martin Wilson, founder of the next turn podcast for a fantastic week on the slopes in the birthplace of European skiing. Come experience "Gemutlichkeit" – the pure joy of skiing in the Austrian Alps! With over 200 miles of impeccably prepared pistes and 97 ultra-modern ski lifts connecting seven villages, the Arlberg's quaint mountain huts serve the most amazing farm to table cuisine. We will stay at Olympic Champion, Patrick Ortlieb's 4-Star S Tyrolean ski in / ski out hotel, with fantastic spa services to rejuvenate the body, evening toque cuisine meals with stories of the day, and an aperitif to refresh the soul. Come experience skiing from town to town – just like it was 120 years ago!

Steep & Deep w/Dan Egan & Marcus Caston
12 - 19 February 2022
Engelberg Titlis is world-class big mountain skiing at its finest. Only Mother Nature knows why this resort gets freaky storms that dumps a ton of snow on the upper mountain – over 10 meters on average! There are 2000m of off-piste freeride terrain in one of the most dramatic backdrops of the Swiss Alps. This resort is home to the famous BIG 5 – some of the wildest off-piste routes on the planet – accessible with certified guides, Hall of Famer, Dan Egan and Warren Miller film star, Marcus Caston who take you to their secret stashes! Our respite during the week is the "grand dame" of Engelberg, the luxurious Hotel Bellevue.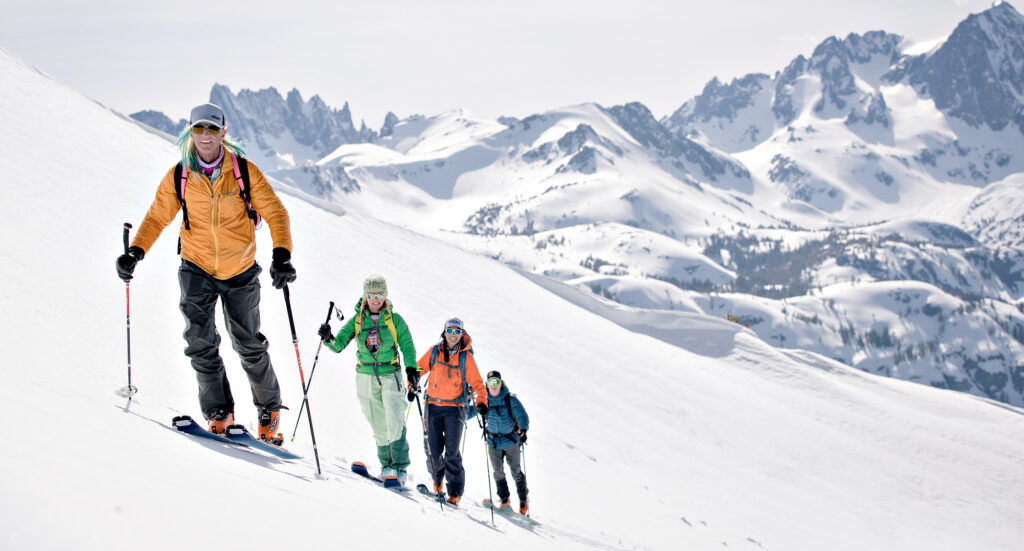 Glen Plake's Chamonix Experience
26 February - 5 March 2022
For the first time ever – This Alpin Luxe EXCLUSIVE opportunity to ski with International Ski Icon, Glen Plake, in his hometown of Chamonix, France! Glen's iconic "natural snow" skiing adventure will take you on some of the most breathtaking off-piste ski runs in Europe. Nestled in the French Alps, Chamonix has some of the most exhilarating skiing anywhere in the world. With over 90 miles of routes off the spectacular Aiguille du Midi, where you can get up close and personal with the peaks and glaciers of Mont Blanc. Our lodging for the week will be at the legendary 5-Star HOTEL MONT BLANC, located in the center of town.

Swiss Ski Zermatt w/Tamara McKinney and Kristin Krone
12 - 19 March 2022
Presented by: Alps & Meters
Springtime in Zermatt could be called God's gift to skiing and boarding. It's an experience you can't get anywhere else on Earth! Immerse yourself in Switzerland's most iconic landscape, on this unforgettable adventure with two of the world's best female skiers; World Cup Champion, World Champion and Olympian Tamara McKinney, and Olympian Kristin Krone. This experience is all about the romantic side of skiing from Switzerland to Italy for a nice pasta and some wine served in centuries old mountain huts. Cruising long meandering slopes from Zermatt to Cervin, while learning and bonding with the world's most dynamic professional skiers is an unforgettable experience. After a day on the slopes, pamper yourselves at the luxurious Grand Hotel Zermatterhof spa and dine at numerous incredible restaurants around town! Presented by luxury ski and sports apparel company, Alps & Meters, every participant will receive something truly special for the week.
Dolomiti Superski w/Olympian Jeff Olson
19 - 26 March 2022
Skiing with an Olympian is bragging rights for life! Ski in / ski out from a stunning 5-star resort at the top of the famed Seiser Alm, under the rugged and iconic Dolomites are some of skiing and boarding's most famed slopes. A UNESCO World Heritage site, the Dolomiti SuperSki region is also the largest collection of networked ski resorts in the world. With one ski pass, you can access 12 different ski areas, and 760 miles of slopes via 460 ultra-modern lifts. Ski around the famous Sella Ronda – a 26-mile loop that goes across four of the ski valleys – in one day! The Dolomites are sure to have exceptional snow conditions and grooming. Besides, it's Italy – which means incredible cuisine and wine like you've ever experienced.

Val d'Isère, France w/Dan Egan & Olympic Champion Donna Weinbrecht
9 - 16 April 2022
Presented by: Alps & Meters
Come join Olympic Champion Donna Weinbrecht and Hall of Famer Dan Egan to celebrate the 30th Anniversary of Donna's Gold Medal performance at the 1992 Olympic Winter Games in Albertville, France. Enjoy sun, incredible snow, French cuisine, and private coaching from two of America's most famous skiers! Espace Killy (named after 3X Olympic Champion, Jean Claude Killy) is a high altitude French alpine ski domain that links the resorts of Tignes with Val d'Isère. Combined, these two resort towns host over 180 miles of ski trails and 90 lifts. And, due to temperatures remaining at sub-zero during the nights, the snow conditions are still like mid-winter – cold and dry. Add some springtime sun and it's some of the best spring skiing and boarding anywhere. Presented by luxury ski and sports apparel company, Alps & Meters, every participant will receive something truly special for the week.
Come join us on an adventure of a lifetime! Not everyone gets a chance to ski or board with an Olympian or Skilebrity. Our trips are limited to a maximum of 10 people, so make your reservations early. These unique experiences are the perfect solution to getting our lives "back to normal." As the Olympics in Tokyo this summer showed us, mental health is paramount to living happy.
Life is short, step out and do something special with your friends or family!
Get subscribed so you never miss out on our travel blogs, tips, stories, news and more!
(No spam, just awe-inspiring bucket list items. We promise.)
stay up to date on the world's most breathtaking destinations, travel tips and more!