Experience the Alpine Lifestyle in Austria
2024 is the year to recenter and focus on YOU and your health.
Join our expert wellness guides in the heart of the majestic Alps,
and learn to elevate your mental and physical wellbeing,
as you experience the joy of true relaxation and the beauty of nature.
The Alpine Lifestyle
When it comes to healthy and stress-free living, Europe is a leader in every category – from medicinal, curative and therapeutic remedies to the scientific development of products utilizing natural ingredients. Alpin Luxe is excited to introduce you to their Alpine Lifestyle. This week of immersion in the European culture of wellness and peaceful living will refresh your appreciation for life, and your connection to the natural world, long after you've returned home.
Our Mountain Escape
In the heart of Tirol is the small village of Maurach, Austria – located on a clear alpine lake in the Austrian Alps. This stunning area is surrounded by the famed Rofan Mountains and offers some of the best hiking, climbing, e-biking and golf in all of Europe, and yet still conveniently located only 20 minutes from Innsbruck. Maurach is also home to one of the most spectacular spa hotels in the world – the Alpenrose and its sister property, the Cocoon.
Your Wellness Guide
Hosted by our Health and Wellness Experts, your week in the Austrian Alps will forever shape the way you look at health and wellness. Our guides and the Alpenrose wellness staff will guide you on a path of understanding the Alpine Lifestyle and how to exercise, and eat for optimum performance and overall health. The Alpine Lifestyle cuts through the health myths so prevalent in society today, so you can lead a healthier and more productive lifestyle.
5-Star European Luxury
The Alpenrose is a traditional 5-Star Bavarian hotel with an incredible array of spa treatments, Beauty Farm, pools, a wine cellar and a variety of options for gourmet dining. During your stay, you'll indulge in some of the finest food and wellness facilities Europe can offer. The Cocoon features some of the most beautiful craftsmanship and ultra-modern amenities we've ever seen in a hotel property, blending the beauty of local nature with the comfort and aesthetics of modern architecture. Treat yourself to the luxury getaway you deserve!
Recovery in Nature
With hundreds of miles of trails for e-biking and hiking, you'll have ample opportunity to explore the beauty of the Austrian Alps during your stay. There is nothing like a great day of adventure in the mountains, followed by a relaxing spa treatment, a glass of wine and a wonderful meal. With over 80,000 sq. ft. of spa and fitness facilities, the Alpenrose is the perfect way to appreciate the power of proper recovery on your mental and physical health. We guarantee you'll come home completely refreshed and ready to tackle the world.
Gourmet Gastronomy
Nutrition is a vital part of our mental and physical wellbeing. Guided by renowned Master Chefs at The Alpenrose and Cocoon, you will learn to appreciate not only the superior flavor of fresh, farm-to-table food, but also the powerful effects that a healthy diet can have on your quality of life – physically, mentally, and emotionally. You'll learn nutrition principles to apply when you return home, which will allow you to unlock the power of the Alpine Lifestyle in your daily life, and appreciate every bite you put in your mouth!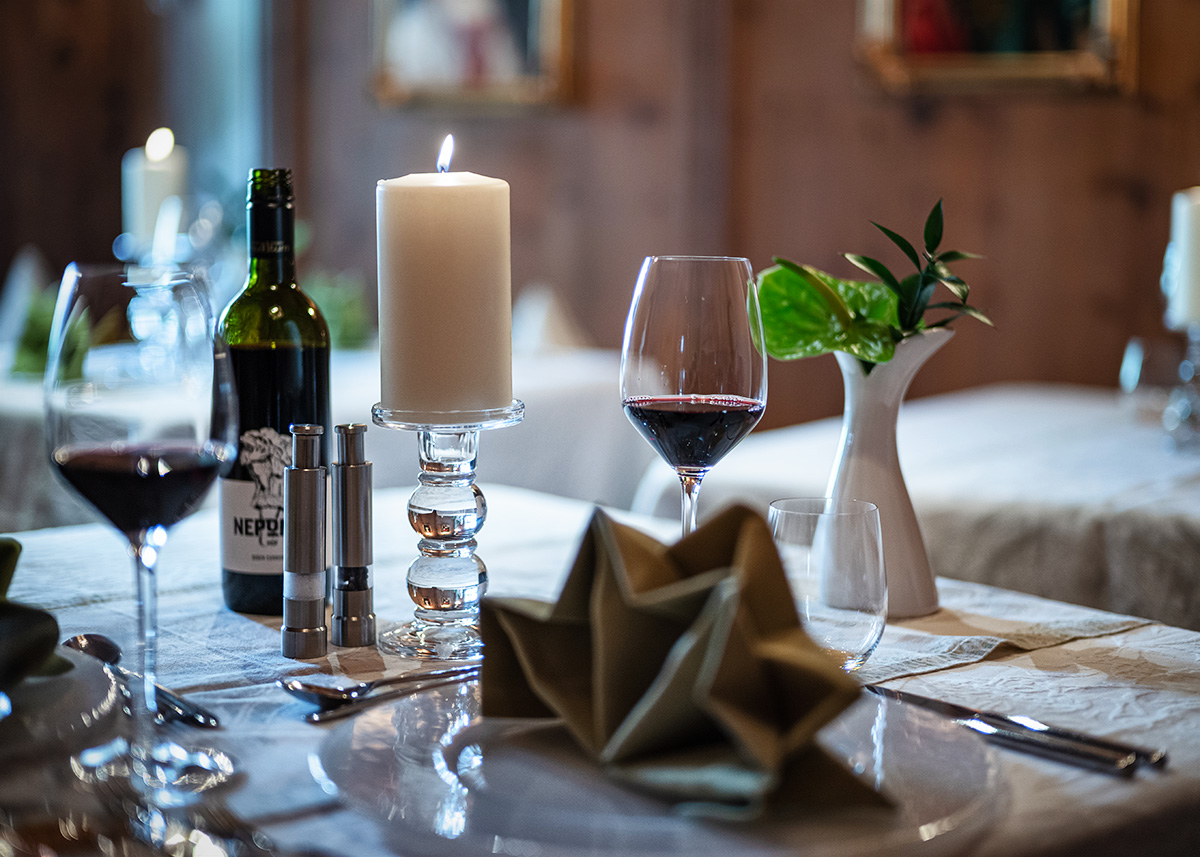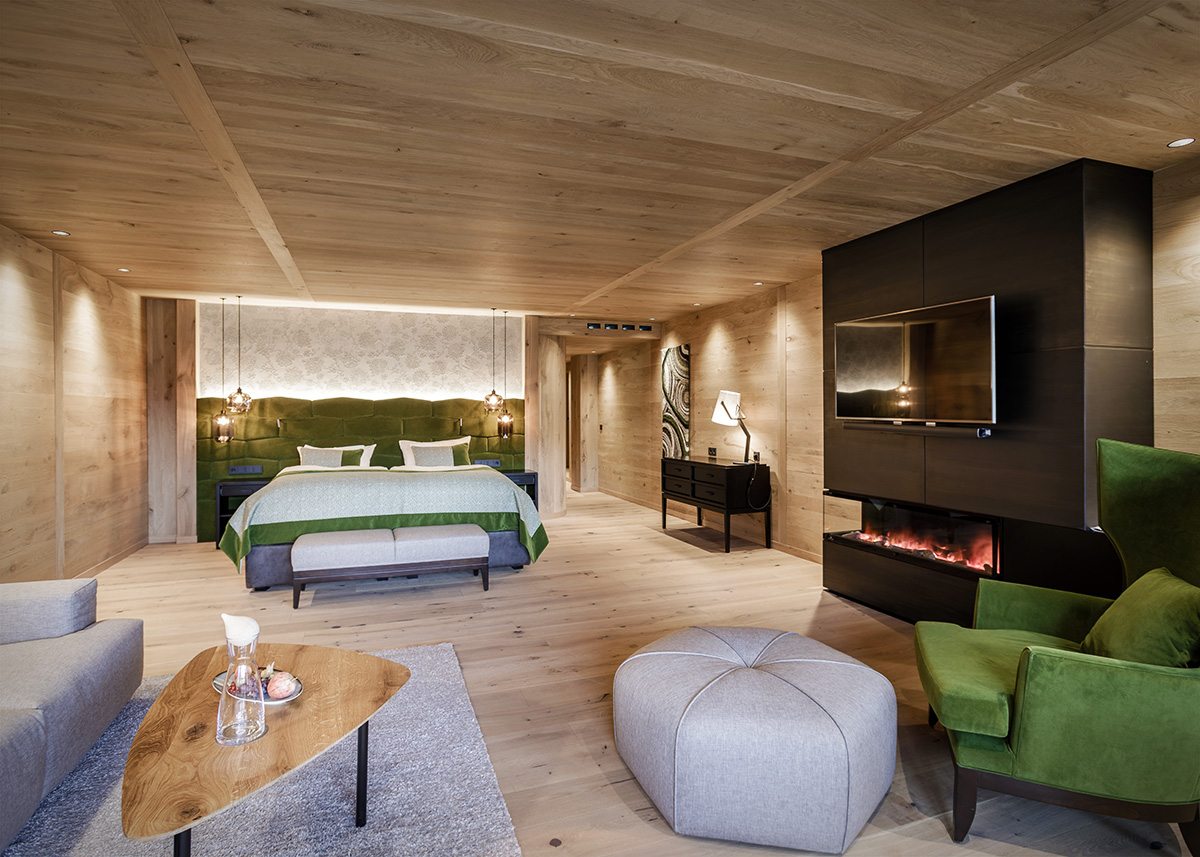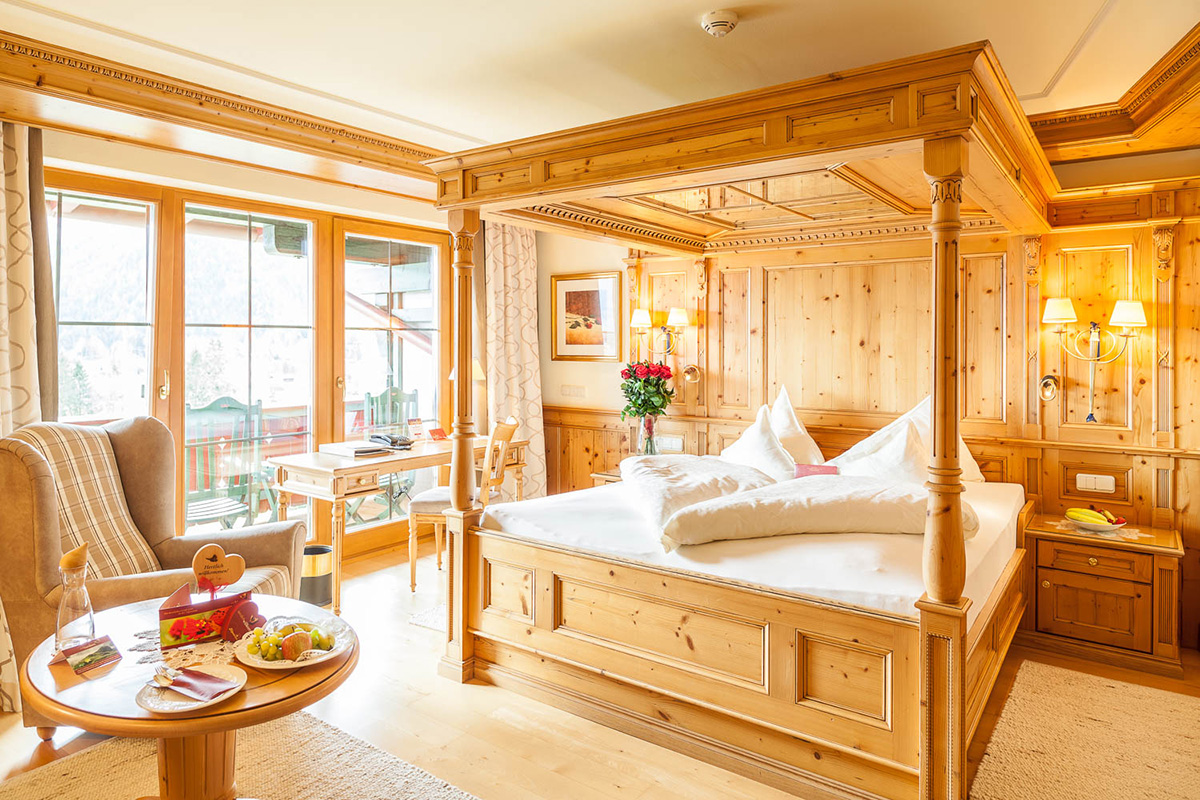 The view from your balcony over our blossoming hotel garden is a dream come true. The cozy beds in a homely atmosphere invite you to come and dream. Enjoy a round-the-clock wellness feeling.
This spacious 45 m² suite in the Tyrolean country house style has a magnificent south-facing view, a bathroom with bathtub and shower, hair dryer, bathrobe, additional toilet, walk-in wardrobe, comfortable seating area, desk, radio, mini-bar with soft drinks, satellite TV, Wi-Fi, telephone, safe, and south-facing balcony.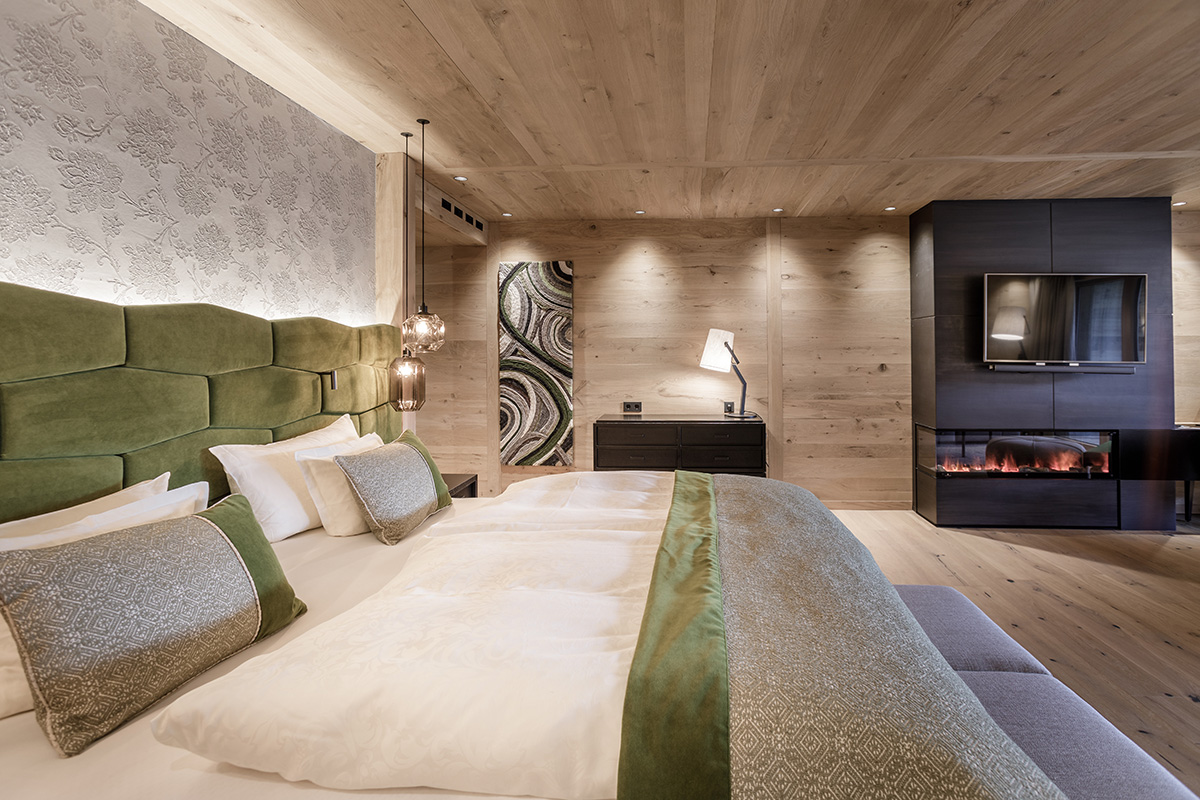 This expansive 90 m² suite is clad in old oak in a modern alpine style, infrared wellness sauna, bathroom with free standing bathtub, shower, additional toilet & bidet, 1 master bedroom with box spring double bed, comfortable seating area and romantic hanging stove.
Also included is 1 additional bedroom with two separate beds, separate access to the bathroom, walk-in wardrobe, safe, minibar with free soft drinks, espresso machine, modern TV & music system including sound bar, and balcony with gorgeous views.
7 nights lodging at either Alpenrose or Cocoon.
Beautiful Breakfast Buffet.
Fruit Bar and Snacks all day.
Gourmet Farm and Sea to Table Lunches and Dinners.
(includes any special dietary requirements).
An introduction to Yoga
Health & Wellness instruction.
The Art of Meditation.
A €200 Spa Gift Card
Full use of the Alpenrose Fitness and Spa facilities.
Full use of E-bikes and Rock-Climbing Equipment.
Dinner at the Ottoburg Restaurant / Innsbruck.
Alpin Luxe Health & Wellness Toolkit.
NOT INCLUDED:
Flight to Innsbruck, Austria.
Medical, evacuation and/or cancellation insurance. We strongly recommend every guest who books an Alpin Luxe trip take out Travel Insurance that includes evacuation and medical coverage. Please click here for more information on Travel Insurance..
*Must provide proof of Insurance*
Alcoholic beverages (other than inclusive).
$
4,950
Per person at Alpenrose | Dbl Occupancy
$
5,950
Per person at Cocoon | Dbl Occupancy
$1000 deposit to secure your booking. (See our updated booking policy!)

Only 8 - 12 spots available. Book early, this trip will sell out quickly!

Additional pricing options available at checkout
We welcome travelers of all types and ages. Individual? Couple? Friends? Family with kids? Of course! Please contact us with any specific questions and information you'd like us to know so we can accommodate your best experience.
We recommend flying into Innsbruck, Austria as the Alpenrose / Cocoon resort is only 45 minutes from the airport. Just let us know your travel itinerary and we will arrange complimentary transportation. The Alpenrose Airport Shuttle will pick you up upon arrival, and can also take you back to the airport for departure.
Flying into Munich is also an option, but you will need to rent a car. Drive time from the Munich airport to Maurach is between 1:45 to 2:00 hours.
Alpenrose / Cocoon Amenities
Alpenrose Restaurant with Tyrolean Farmhouse Parlors
Cocoon Restaurant with Master Chef, Markus Wanner
Nachtschwarmer Lounge & Bar
Alpenrose & Cocoon Wine Cellars
90,000 sq. ft FITNESS & WELLNESS FACILITY
• Alpine pasture herbal sauna
• Herbal salt-water steam bath
• Stone steam bath 45 °C
• Classic steam baths 47 °C
• Caldarium 50 °C, Laconium 60 °C
• Swiss pine sauna 80 °C
• Tepidarium with warm stone beds
• Salt grotto in Tyrolean rock
• Log cabin sauna in the hotel gardens (family sauna)
• Solarium, Alpha relaxation bed, Sound-motion bed
(surcharge)
• Alternating footbaths
• Tea bar with soft drinks and teas
• Alpine Medical Care
• Bathing Facilities
• Temple of Vitality
• Beauty Farm
• Fitness & Sport Center
• Kid's Water World
• Alpine Botanical Garden
E-bikes and rock climbing equipment
E-Cars
Bathtub and Shower
Hair Dryer
Bathrobe
Toiletries
Walk-in Wardrobe
Desk
Seating Area
Radio
Minibar
Satellite TV
Wi-Fi
Telephone
Safe
Hiking
E-Biking
SUP on Achensee
Rock Climbing
Golf
Paragliding / Skyglider
Herbal Hike
Activity Hike
Sound of Music Hike (Werfen)
Swarovski Crystal World
Yoga
Aqua Gymnastics
Step Aerobics
Zumba
TRX
Kinesis
18 Different Spa Treatments
Beauty Farm
Late September / early October is a great time to visit Austria. Fall colors, cool, and sunny days are ideal for hiking, biking and rock climbing. Temps can range from 55° to 65°F with the occasional rain shower. There are so many spa activities and classes, you almost hope for a rainy day!
Long Sleeve Shirts / Pants
Sweater / Fleece Top
Breathable Gore-Tex Rain Jacket
Down Puffy or Vest
Lightweight Wool Cap
Basic Undergarments
Athletic Wear (Hikes / Workouts)
Athletic Footwear (Hiking / Gym)
Sandals / Flip Flops
Caps / Hats for sun protection
Sunglasses
Sunscreen / Chapstick
Allergy Medication (if applicable)
Epi Pen (if applicable)
Ibuprofen / Tylenol
Daypack
Water Bottle
Basic Toiletries
Phone / Watch / Tablet Charger
Voltage Converter (Europe uses 220V)
Travel Insurance
Airline Tickets
Passport
Digital Vaccine Passport (optional)
Neck Wallet
Universal Waterproof Phone Case
VPN
Book Your Wellness Getaway Today!
stay up to date on the world's most breathtaking destinations, travel tips and more!