Mountain Bike the Zillertal
Rolling pastoral greens and rugged mountain vistas await you
in the heart of the Austrian Alps. It's a cyclist's paradise for
riders of all skill levels. Take your pick of traditional or E-MTB!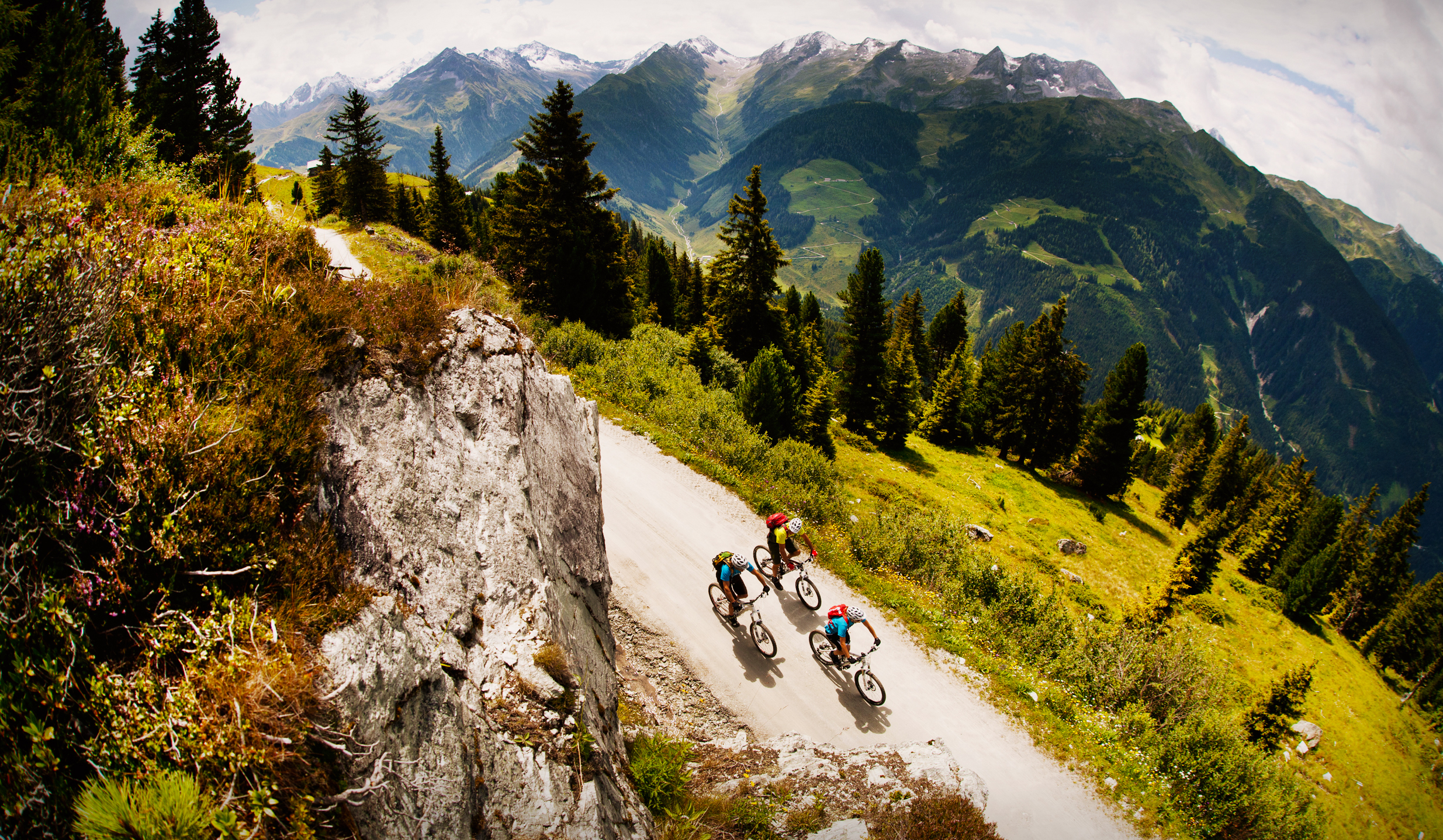 Majestic Austrian Alps
The Zillertal is Austria's hidden gem of mountain biking. Over 250km of trails and a variety of terrains will entice and delight mountain bikers of all abilities. From gravity-fed downhill bike parks, to scenic and meandering dirt roads, to technical and challenging singletrack, there is something for everyone!
Luxury Acommodations
Accommodations for the week are at the Sport Residenz Zillertal – a spectacular 4-StarS property known for impeccable service. All 33 spacious suites are characterized by mountain concepts, utilizing natural materials and are warm and inviting, with a sleek, ultra-modern finish. Relax in comfort with all the amenities.
Farm-to-Table Cusine
You will feast in the exceptional gourmet restaurant The Genusswerkstatt, awarded 13 points by Gault et Millau, where everything revolves around local, farm-to-table ingredients selected for physical wellbeing. The Chef de Cuisine will treat you to a multi-course gourmet evening menu, gala dinners and exclusive themed buffets.
Recovery at Its Finest
After a long, dusty day on the trails, the Cloud 7 Spa is pure heaven. Over 1000 square meters of saunas, steam baths, massage tables, wellness treatments, and more. And when you're done? A dip in the heated rooftop infinity pool to finish off the evening. Here, activity and recovery are in perfect balance, both physically and mentally.
Improve Your Skills!
Our expert mountain bike coaches
Christine
and
Tyler
will guide you on an experience like no other. With trails hand-picked specifically for your skill level, you'll enjoy the beauty of Austria, while improving your safety, strength, and skill on the bike. Personalized instruction will help you on your journey, and we provide E-Bike rentals to make the trails accessible to everyone!
Beyond the Trails
Europe is a country steeped in cycling culture, and there's no better way to learn its history than by exploring it on two wheels! We'll visit magnificent castles, enjoy the local cuisine, bike from hut to hut on the mountaintops, and explore nearby towns. This experience with the "slow living" culture of Europe will change the way you look at cycling forever!
Learn more about skill levels for cycling here.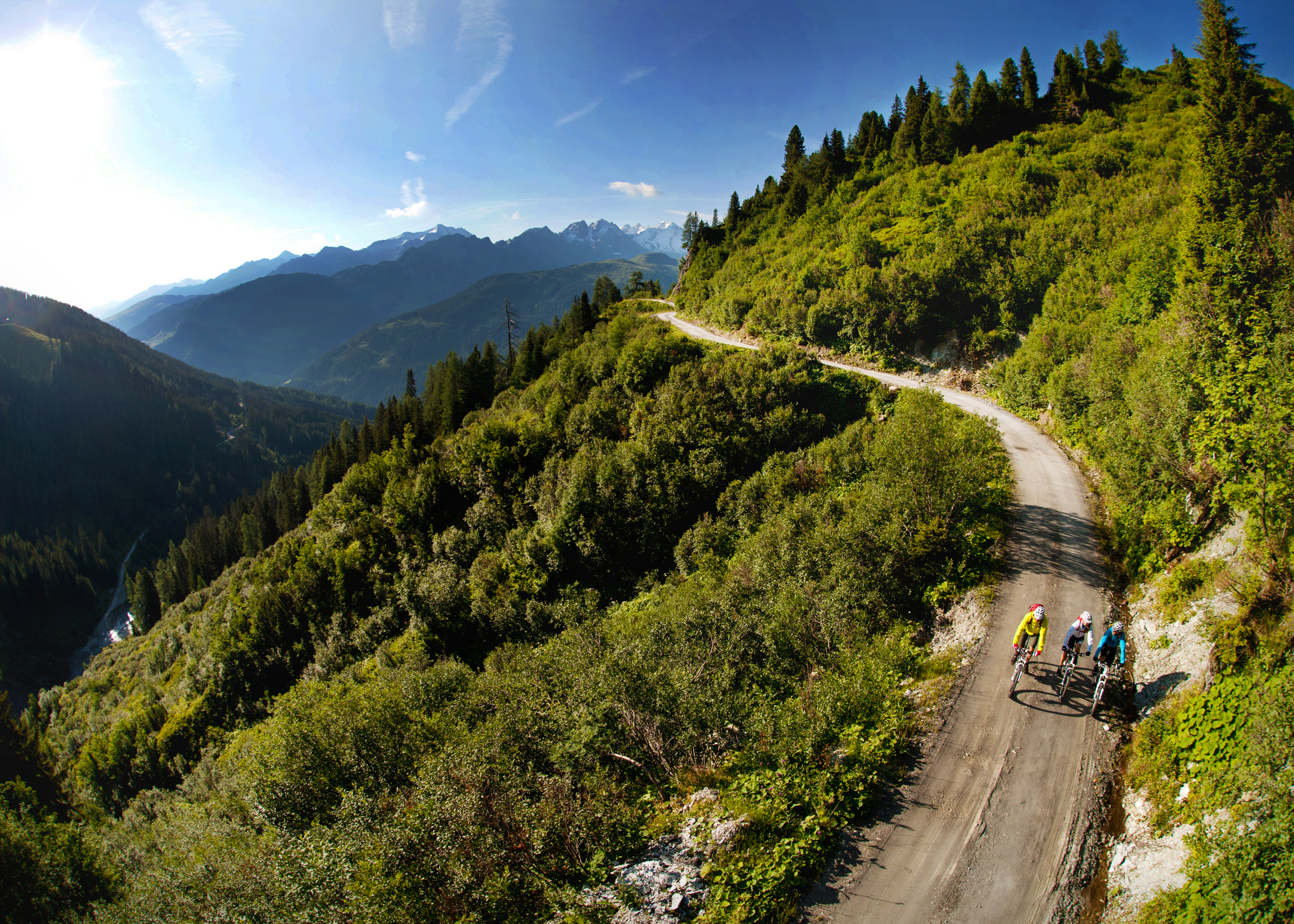 Lodging "Half Board" at the 4-StarS Sport Residenz Zillertal
Magnificent Buffet Breakfasts.
Afternoon Tea & Snacks.
Gourmet Dinners (includes any special dietary requirements).
Airport transfers and transportation during your stay.
Mountain bike / E-bike rental for the week.
Evening in Innsbruck (Dinner at Schloss OTTOBURG).
Welcome reception at the Sports Residenz Zillertal.
A visit to Trazberg Castle – built in the 15th Century.
All access pass for all spa facilities:
Saunas, pools, hot tubs, steam rooms, infrared cabins.
One Full-body Massage during your stay.
Evening cocktail cruise on the beautiful Lake Achensee.
Mountain Bike skills, fitness and wellness coaching.
Alpin Luxe Partners Gift Bag.
Gratuities.
NOT INCLUDED:
Flight to Innsbruck, Austria
Medical, evacuation and/or cancellation insurance. We strongly recommend every guest who books an Alpin Luxe trip take out Travel Insurance that includes evacuation and medical coverage. Please click here for more information on Travel Insurance.
*Must provide proof of Insurance*
Additional alcoholic beverages (other than inclusive).
Additional spa treatments (other than inclusive).
Sumptuous Buffet Breakfast
Each morning, all guests receive an amorous,
varied breakfast buffet with vital corner,
fresh fruit and delicacies from our regional offerings.
Afternoon snacks and drinks are available from 2:00 to 4:00p each day.
In our exceptional "Hood and 13 Points by Gault & Millau"
gourmet restaurant "The Genusswerkstatt",
everything revolves around selected ingredients
for the physical wellbeing.
Chef de Cuisine Willy cooks for his guests with
local, farm to table ingredients.
All half-board guests receive a multi-course gourmet
evening menu, gala dinners or exclusive themed buffets.
A glass of wine, cocktail and/or aperitif
from our well-stocked bar and wine lounge
is the perfect ending to each active day.
Our "Cloud7" Spa is wellness at its best.
Saunas and steam baths provide relaxation and soothing comfort after a long day of activities.
Cosmetic and/or massages provides a little luxury for the senses.
Your own private spa with panoramic sauna can be enjoyed in the suites.
Suites also come with the exclusive "sauna days"
in Mattheo Thun design with direct access to the sun terrace
and the year-round heated infinity pool on the roof
with stunning views of the Zillertal Alps and the golf course.
• Spa facility with over 1,000 m²
• Rooftop hot tub
• Year-round heated infinity pool on the roof
• Sauna day from 11am with direct access to the sun terrace and infinity pool
• Finnish sauna at 90 degrees
• Bio sauna at 55 degrees
• Brine steam bath
• Relaxation room & waterbed relaxation room
• Sun terrace by the infinity pool
• Panorama Winter Garden relaxation area on the roof
• Fitness room with cardio and muscle building
• Natural swimming pond with jetty
• Infrared Cabin
• Balcony or terrace
• Self-programmable Safe
• Satellite TV, wireless, radio and telephone
• Shower, separate WC
• Underground parking
• Bathrobes and felt slippers on loan in the Room
• Minibar filled with free soft drinks
• Espresso coffee machine
• Free Wi-Fi Internet
At least two full cycling kits
(you can wear whatever is comfortable, but we recommend a jersey and
padded shorts, since we'll be spending a LOT of time in the saddle!)
Athletic socks (optional compression)
Base layer (something that breathes well)
Cycling windbreaker or waterproof jacket
Cycling Gloves (full- or short-finger)
Helmet
Glasses and Sunglasses (Clear and tinted lenses for both comfort and safety)
Cycling-appropriate shoes
(Bring your flats or clipless if you have them.
Otherwise, a stiff, comfortable pair of tennis shoes will work)
Backpack, Camelback, or Saddlebag to carry snacks and tools on rides
Spring/summer appropriate attire
Lightly insulated or fleece jacket/vest (It gets cold at night in the mountains!)
Nice, casual apparel for dinners and events
Bathing suit (sauna, spa, hot tub)
Sunscreen and Chapstick
Basic toiletries
Airline Tickets
Passport
Digital Vaccine Passport (optional)
Neck Gaiter
Extra pair of gloves
Additional outerwear (wool jacket, arm/leg warmers, etc.)
Body armor or protection
Water bottle
GoPro or Camera
If you'd like to travel with your own bike,
we have a partnership with TripHero who offer bike shipping services.
Contact us for special rates, and to arrange shipping!
Experience your Dreamy Mountain Getaway!
Contact us for custom dates and pricing:
stay up to date on the world's most breathtaking destinations, travel tips and more!