Ski and Golf on the Same Day!
Yes, it's possible! Few places on Earth offer the majesty of
the Zillertal valley. Explore the springtime Alps in the morning and
relax in luxury after an afternoon at our championship golf course.
This Confirmed360 Exclusive is a once-in-a-lifetime experience!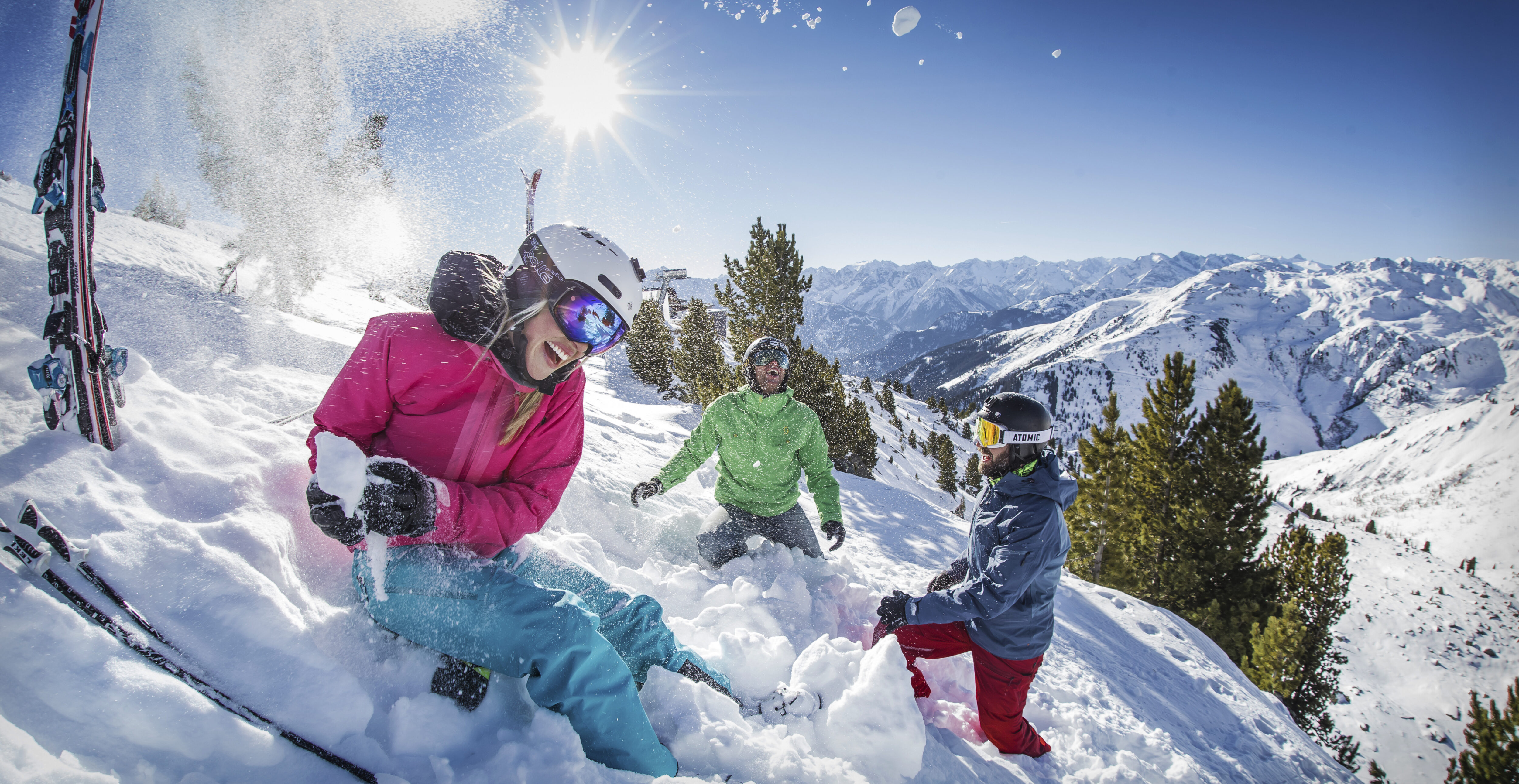 The Magic of Spring
There is something special about springtime in the Alps! The weather is warmer, the valleys are a lush green, yet there is still plenty of snow high up in the Zillertal ski resorts with some of the best spring skiing on earth! There are few places on the planet where you can ski in the mornings and golf in the afternoons.
Your Expert Coaches:
You'll be joined on this adventure of a lifetime by Olympic Ski Coach
Gary Miller
, and Olympian Doug Lewis! Spend your mornings learning skiing skills that will last a lifetime, then relax and enjoy time on the links every afternoon, honing your golf technique and soaking up the spring sun. Elite coaching for all!
On-Site Golf Course
Our luxury accommodations are at the Sport Residenz Zillertal​ – a spectacular 4-StarS property with one of The Leading Golf Courses in Austria on site, where you will spend your afternoons. This championship course, the Golfclub Zillertal Uderns, presents a unique challenge, including the famed "ninth hole" with its scenic views.
Relax in Luxury
Enjoy your spectacular home away from home in the modern suites of the Sport Residenz Zillertal. And after a long day of ski in the morning and golf in the afternoon, you can relax in their top-of-the-line spa facilities, with over 1000 Sq Meters of Hot Tubs, Sauna, Steam Baths, Massage Tables, and more. Then, watch the sun set from the heated rooftop infinity pool.
Gourmet Local Cuisine
The Gault et Millau chefs of the Sport Residenz will treat your palate to the exquisite flavors of Europe. From lunches at mountain huts on the ski slopes, to multi-course dinners in the best restaurants in town, you'll experience the best local, farm-to-table, artistically crafted food that Austria has to offer. Discover how truly wholesome food can change the way you live!
World-Class Skiing
With the Zillertal Superskipass, each guest on our trip can ski the Zillertal Arena, Kaltenbach, Hochfugen, Mayerhofen and Spielhoch. That's 318 miles of groomed runs and 180 lifts linked together! You'll enjoy on-mountain fine dining, where service is par excellence. European ski amenities that blow American Resorts out of the water will change the way you see skiing forever!
Book now and receive $1500 credit towards Alps & Meters luxury ski apparel!
Browse our spring favorites for Austria...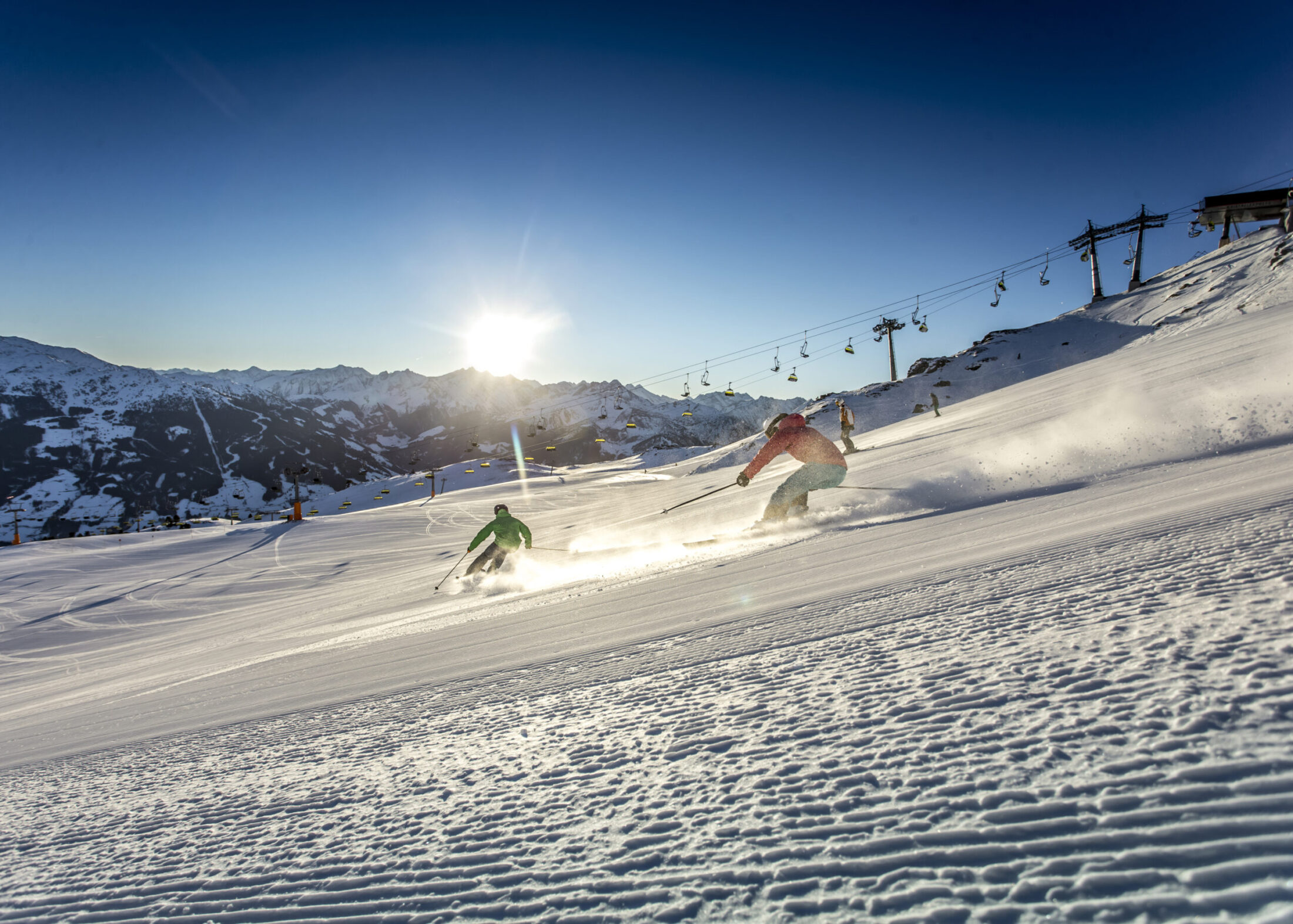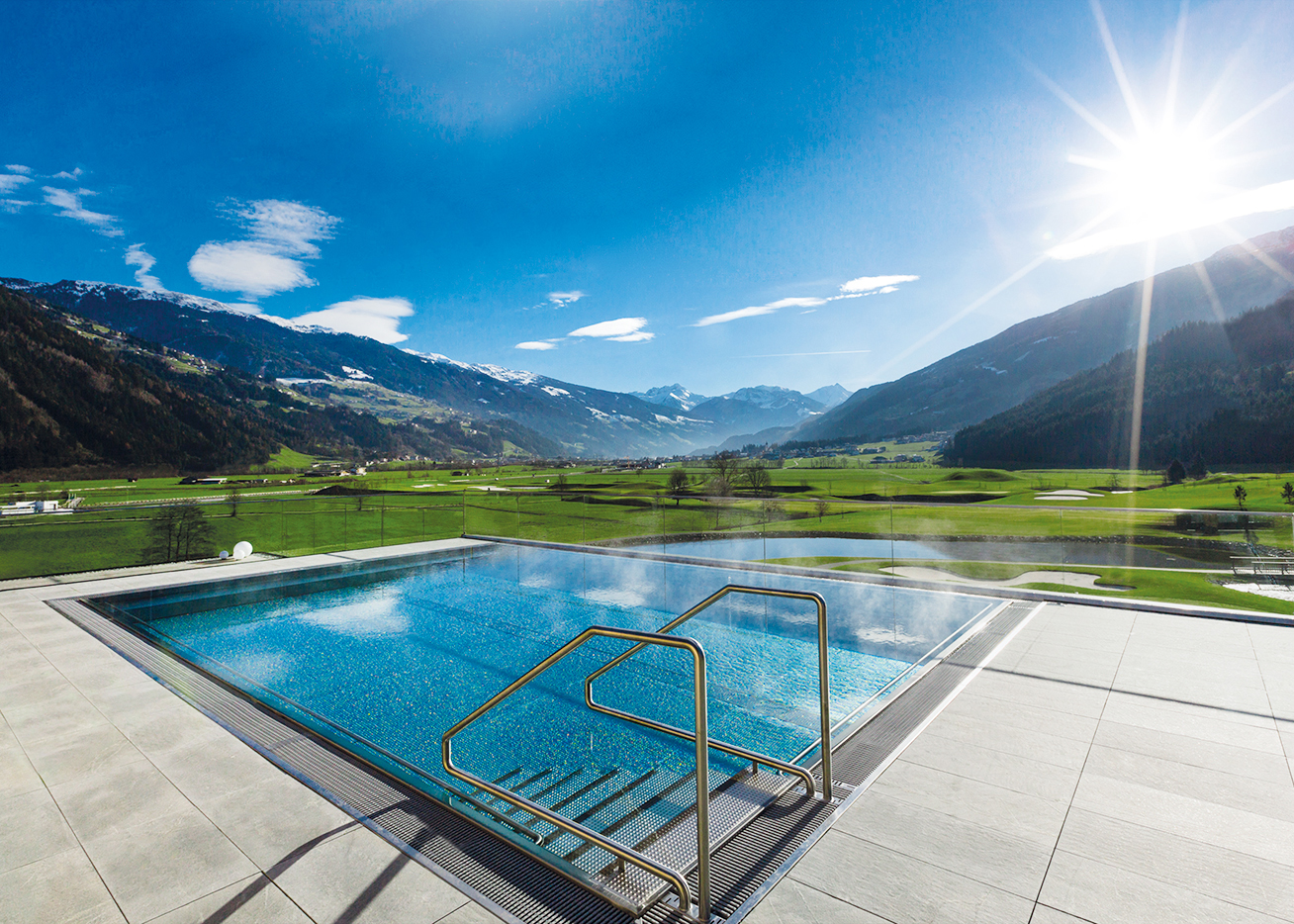 Lodging "Half Board" at the 4-StarS Sport Residenz Zillertal.
Magnificent Buffet Breakfast.
Afternoon Tea & Snack.
Gourmet Dinner by Gault et Millau chefs.
Wine or Beer included with dinner (limit 2 drinks per person).
$1500 Credit towards luxury spring and ski apparel from Alps & Meters.
Airport transfers and transportation during your stay.
Zillertal Superskipass for 5 days.
Evening in Innsbruck (Dinner at Schloss OTTOBURG).
All on-mountain lunches at either:
Kristallhutte
Wedelhutte
Albergo
Firnhutte
Kashutte
Marendalm
Welcome reception at the Sports Residenz Zillertal.
Wine Tasting event at the Sport Residenz.
An afternoon visit to Trazberg Castle – built in the 15th Century.
$500.00 Gift Card to the Sport Residenz Spa and Wellness Center.
Daily use of all spa facilities:
Saunas, pools, hot tubs, steam rooms, infrared cabins, and multiple "staffed" fitness studios and classes.
18-Hole Championship Golf course with Driving Range / Putting facility.
Skis and Poles.
Golf Clubs (if desired)
Alpin Luxe Skilebrity Gift Bag.
Gratuities.
NOT INCLUDED:
Flight to Innsbruck, Austria
Medical, evacuation and/or cancellation insurance. We strongly recommend every guest who books an Alpin Luxe trip take out Travel Insurance that includes evacuation and medical coverage. Please click here for more information on Travel Insurance.
*Must provide proof of Insurance*
Additional alcoholic beverages (other than inclusive)
Additional spa treatments (other than inclusive)
Ski clothing, helmet, gloves, goggles and ski boots
Only 8-12 spots available. Book early, this trip will sell out quickly!

Additional pricing options available at checkout
Have a friend or family member who wants to join you on a visit Europe in luxury, but doesn't ski? Ask about our discounted "Plus 1 Body" Pricing!
We recommend all our guests fly directly into the Innsbruck airport – which is only 45 minutes away from the hotel.  You should plan to arrive by midday on Saturday – which will give you time to check in, unpack and get ready for skiing the next day.  Please make sure to give us your flight details so we can arrange transportation from the airport to the Sport Residenz Zillertal.  We will also arrange transportation back to the airport the following Saturday. 
We also arrange private aircraft transportation to Innsbruck via ONEFlight. Contact us for more details and a flight quote. With our affiliate program, it's more affordable than you might think!
Sumptuous Buffet Breakfast
Each morning, all guests receive an amorous,
varied breakfast buffet with vital corner,
fresh fruit and delicacies from our regional offerings.
Afternoon snacks and drinks are available from 2:00 to 4:00p each day.
In our exceptional "Hood and 13 Points by Gault & Millau"
gourmet restaurant "The Genusswerkstatt",
everything revolves around selected ingredients
for the physical wellbeing.
Chef de Cuisine Willy cooks for his guests with
local, farm to table ingredients.
All half-board guests receive a multi-course gourmet
evening menu, gala dinners or exclusive themed buffets.
A glass of wine, cocktail and/or aperitif
from our well-stocked bar and wine lounge
is the perfect ending to each active day.
Our "Cloud7" Spa is wellness at its best.
Saunas and steam baths provide relaxation and soothing comfort after a long day of activities.
Cosmetic and/or massages provides a little luxury for the senses.
Your own private spa with panoramic sauna can be enjoyed in the suites.
Suites also come with the exclusive "sauna days"
in Mattheo Thun design with direct access to the sun terrace
and the year-round heated infinity pool on the roof
with stunning views of the Zillertal Alps and the golf course.
• Spa facility with over 1,000 m²
• Rooftop hot tub
• Year-round heated infinity pool on the roof
• Sauna day from 11am with direct access to the sun terrace and infinity pool
• Finnish sauna at 90 degrees
• Bio sauna at 55 degrees
• Brine steam bath
• Relaxation room & waterbed relaxation room
• Sun terrace by the infinity pool
• Panorama Winter Garden relaxation area on the roof
• Fitness room with cardio and muscle building
• Natural swimming pond with jetty
• Infrared Cabin
• Balcony or terrace
• Self-programmable Safe
• Satellite TV, wireless, radio and telephone
• Shower, separate WC
• Underground parking
• Bathrobes and felt slippers on loan in the Room
• Minibar filled with free soft drinks
• Espresso coffee machine
• Free Wi-Fi Internet
Base layers (wool is best for travel)
Ski socks (wool or compression)
Mid-layer (wool, down vest or fleece pullover)
High quality outerwear (Wool, Gore-Tex or similar)
Gloves or mittens
Helmet (recommended)
Warm headwear (for off-piste)
Goggles
Buff or face and neck protection
Ski or snowboard boots
Lodge clothing (comfy sweats)
Mountain casual apparel for dinners (jeans, sweaters)
Golf attire
Regular boots (mud or snow)
Bathing suit (sauna, spa, hot tub)
Sunglasses
Sunscreen and Chapstick
Basic toiletries
Airline Tickets
Passport or ID
COVID-19 test 3-5 days prior to departure
*must bring test results on flight
Golf clubs
Extra goggle lenses
Extra pair of gloves or mittens
GoPro or Camera
This is a Confirmed360 Exclusive Experience.
If you are a member, enter your password below to book now!
If not, please contact us at info@alpinluxe.com or (877) 515-9765 .
stay up to date on the world's most breathtaking destinations, travel tips and more!