Ski Glen Plake's Chamonix!
For the first time
ever
- This Alpin Luxe EXCLUSIVE opportunity
to ski with International Ski Icon,
Glen Plake
, in his hometown of Chamonix, France!
Glen's iconic "natural snow" skiing adventure will take you on some of the most
breathtaking off-piste ski runs in Europe.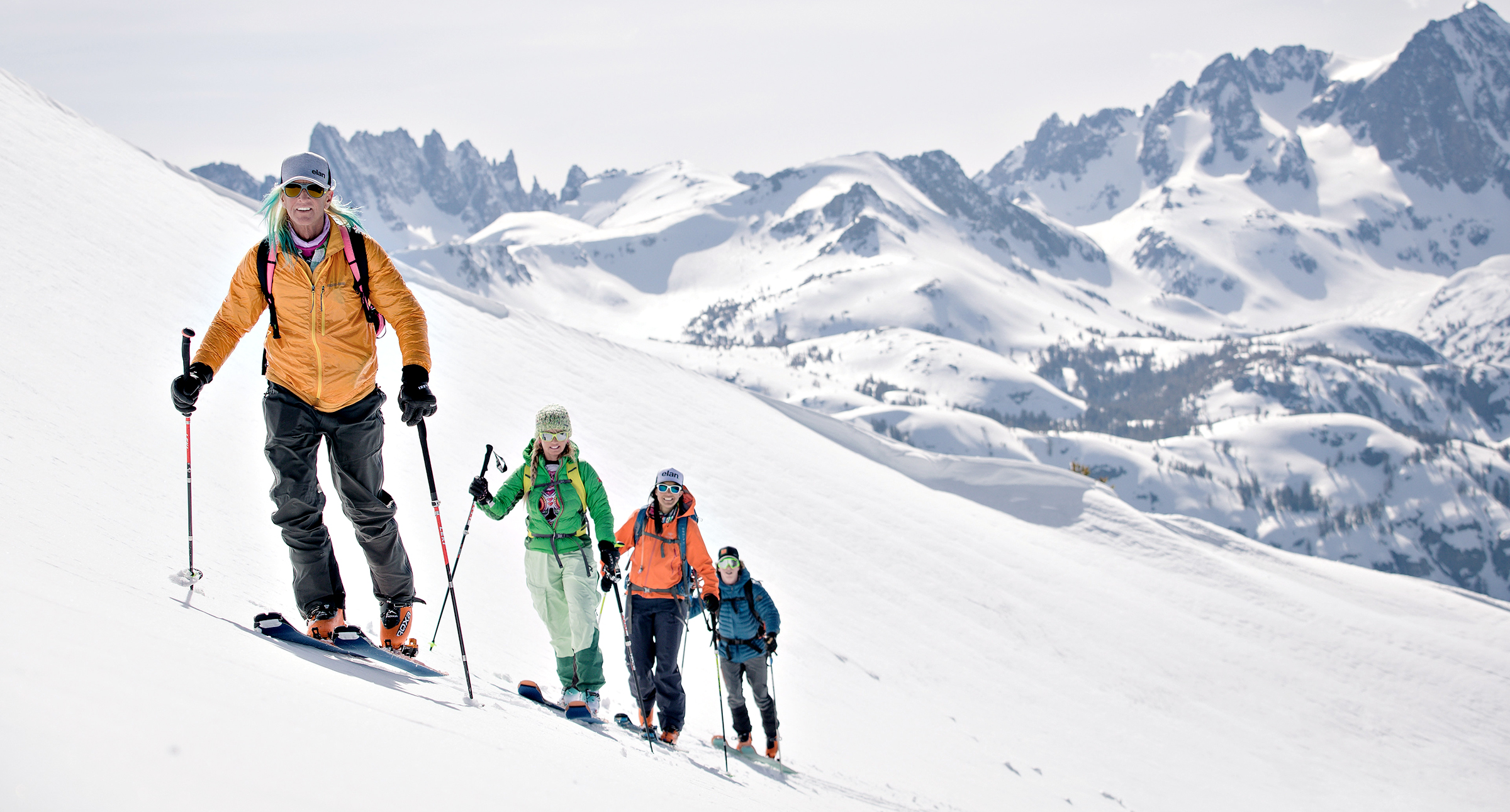 A Skiing Mecca
Nestled in the French Alps, Chamonix has some of the most exhilarating skiing anywhere in the world. With over 90 miles of routes off the spectacular Aiguille du Midi, where you can get up close and personal with the peaks and glaciers of Mont Blanc. Every day will be a surprise. With a schedule provided each morning by Glen Plake, you'll have the chance to ski some of the most iconic off-piste runs in the world.
Truly "Natural Snow"
Glen is eager to take you on a personal tour of his favorite skiing playground. There will be ski touring, power fields, chutes and a once-in-a-lifetime chance to rip it up with "The Master" himself. Push your limits, and become one with the mountain. Ninety five percent of the skiing on this trip will be on "natural snow", which is Glen's preferred terrain. Once you experience skiing like this, you'll never see it the same way again.
Your Ski Celebrity
Those of you who only know
Glen Plake
from his famous ski movies don't really know Glen. His full bio on our site with his staggering list of accomplishments shows he's more than just a guy with a fancy mohawk. A truly kind and genuine person, he'll be your new friend in less than 5 minutes! Barry Levinson and Gary Miller will be your co-hosts for this trip, to help you enjoy the
Alpine Lifestyle
experience!
Magnificent Mont Blanc
Our lodging for the week will be at the legendary 5-Star HOTEL MONT BLANC, located in the center of town. This property is both charming and elegant, with fabulous cuisine and a world class spa by Clarins. After the exhilaration of the slopes, dive into the heated outdoor pool, with a spectacular view of the Mont-Blanc. Relax in luxury with the state-of-the-art fitness equipment and expansive spa facilities.
Immersed in Culture
It's not every day that you get to tour with one of the most famed skiers in the world, on his own stomping grounds! No one knows the mountains and the ski culture of Chamonix more intimately than
Glen Plake
. From his favorite off-the-beaten-path routes, to magnificent meals at some of his favorite restaurants and local haunts, you'll experience the most authentic and unique ski adventure Chamonix has to offer.
The Alpine Lifestyle
This truly is the perfect way to escape the grind and recenter your priorities. Learn how the best athletes in the world balance hard work and relaxation to create a fulfilling life that leaves them rejuvenated and motivated day after day. Experience magnificent cuisine and the power of healthy, fresh food to elevate your quality of life. The principles you learn of the Alpine Lifestyle will guide your days long after you've returned home.
What You Should Know BEFORE Booking:
Skiing Chamonix and its connected resorts is an adventure of a lifetime – especially alongside an international ski celebrity like Glen Plake. This trip is only for intermediate to advanced skiers with a decent level of fitness and endurance. Glen's goal on this trip is to introduce everyone to the "natural snow skiing experience" which is skiing on varied snow conditions. 95% of our skiing will be on "natural snow," not groomers. There is truly a difference, which makes natural skiing so much fun! We may have light or heavy powder, some windblown snow, crusty snow or warmer soft snow, but it's always "eau natural." We recommend everyone arrive in excellent skiing condition and are prepared to ski sometimes challenging terrain. Safety is paramount, so rest assured, Glen and his Chamonix guides are both experienced and certified off-piste skiers.
Please note the following requirements:
You should be comfortable as an off-piste skier, confident and efficient in skiing in varying snow conditions without stopping or losing control over your skis.
You should be physically fit and ready to hike, skin and traverse to snowfields chosen by Glen and his mountain guides.
Any potential ski clients on this Alpin Luxe trip will be required to answer the following questions:
Where in the world have you skied?
Have you skied in Europe previously? If yes, where?
Have you ever taken a ski mountaineering and avalanche education course? (Not mandatory.)
In what other sports do you participate?
How many days a year do you ski?
Can you ski ungroomed slopes?
Have you ever Heli-skied?
Have you ever been a competitor in any skiing discipline?
We look forward to having you join Glen on this incredible adventure!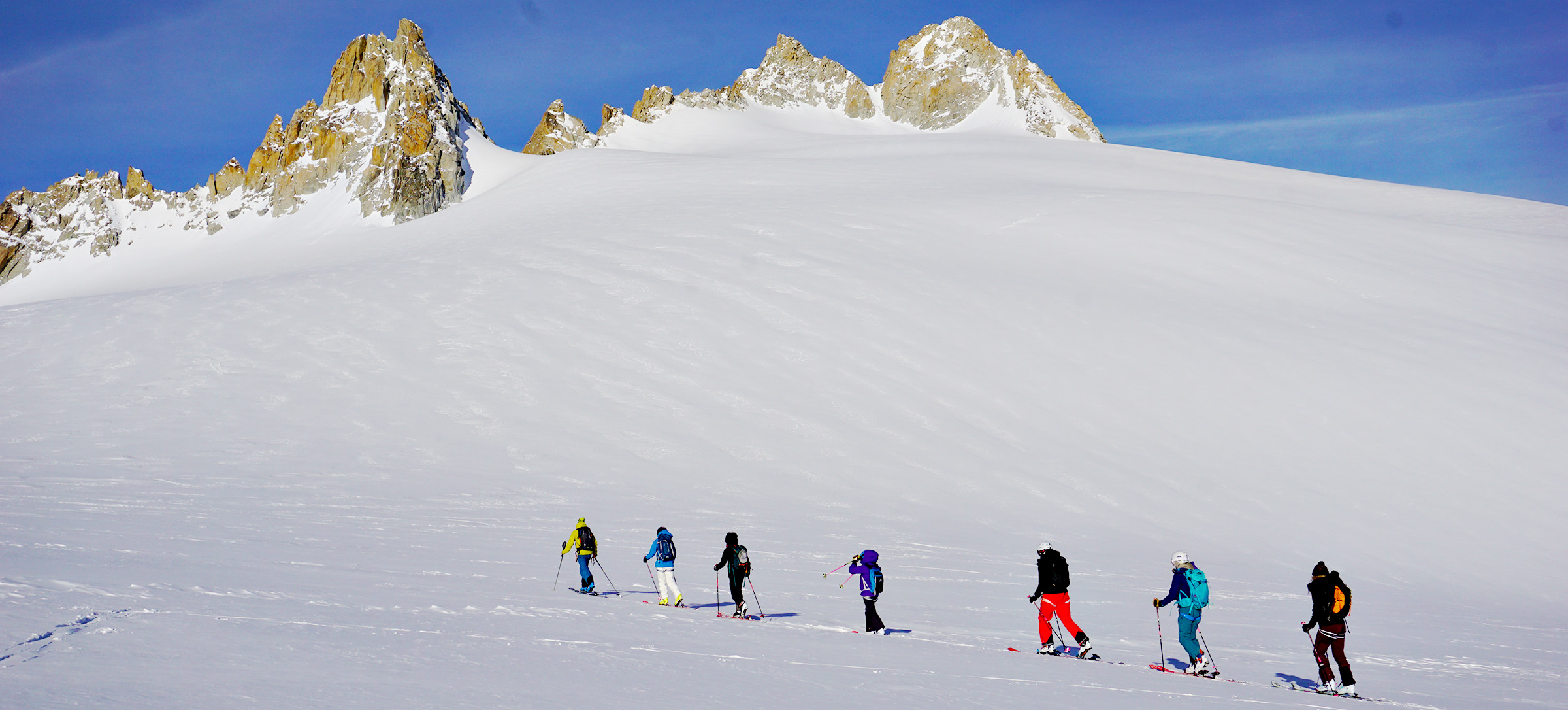 7 luxurious nights lodging and gourmet breakfast at HOTEL MONT BLANC.
Mont Blanc Unlimited Ski Pass – which includes skiing in 3 countries!
Casual dinners around town at Glen and Kimberly's favorite restaurants.
Wine and beer included with dinner (limit 2 drinks per person).
Ski excursion to Courmayeur, Italy with transit back.
Wine Tasting and Private Screening of Glen's famous movie, "The Blizzard of Aahhh's."
On-mountain lunches at Glen's favorite haunts.
Skis, poles and mountaineering gear.
All access pass to Hotel Mont Blanc's Clarins spa.
One 50-minute massage included.
Experience of a lifetime coaching and guiding.
A Chamonix GP Super Surprise (weather permitting)!
Gratuities.
Skilebrity Gift Bag.
NOT INCLUDED:
Flight to Geneva.
Transportation to Chamonix.
Medical, evacuation and/or cancellation insurance. We strongly recommend every guest who books an Alpin Luxe trip take out Travel Insurance that includes evacuation and medical coverage. Please click here for more information on Travel Insurance.
Participants must also have rescue insurance by Carre Neige (see here for details)
* Must provide proof of Insurance*
Alcoholic beverages (other than inclusive).
Specific spa treatments (other than inclusive).
Ski clothing, helmet, gloves, goggles and ski boots.
Only 4-8 spots available. This trip will sell out quickly, don't miss this once-in-a-lifetime opportunity!

Additional pricing options available at checkout
Do you have a husband, wife or significant other who would like to accompany you on a fantastic trip to Europe? We offer a discounted rate for those who don't ski, but would like to experience Europe, the crisp air, incredible spa and fitness facilities and the beauty available at our world-class resorts. We are fortunate on this trip to have Kimberly Plake to work with anyone who wants to have a more casual skiing experience.
Ask about our discounted "Plus 1 Body" Pricing!
As with most beautiful European resorts, travel is quite easy. The scenery is amazing and the roads are excellent. We recommend arranging a private transfer to Chamonix, which is relatively straight-forward, covering a distance of 88 km. Driving time from Geneva Airport (GVA) to Chamonix is about one hour via the Autoroute Blanche (A40) motorway.
From the train station of Bellegarde sur Valserine (direct TGV 2h35 from Paris) and 1h15 driving or from St Gervais les bains le Fayet (direct TGV 4h35 from Paris) and 25min driving. We can assist you in organizing this part of the trip. To access reservations on the TGV (France's high-speed trains), click here.
Chamonix is easily accessible by the N205 and the White Highway, A40, connected to the European motorway network.
From Chamonix, by car, the Hotel Mont Blanc is located: Just 2,5 km from the « Tunnel du Mont-blanc ». 108km from Annecy. 89km from Geneva. 54 km from Val d'Aoste. 1h30 from Turin. 1h45 from Lausanne and the Leman Lake. 2h20 from Milan. 2h30 from Lyon.
100km from the Haute-Savoie-Mont-Blanc Airport (Annecy). 88km from Geneva International Airport (bus connection between the airport and Chamonix). 220km from Lyon-Saint-Exupéry Airport.
Hotel Mont Blanc Amenities
Gourmet buffet breakfast featuring regional produce,
juices, fresh fruit, freshly prepared egg dishes and plenty of different breads.
Flat screen TV, Mini Bar, Safe, Slippers and bathrobe,
Clarins welcome products and Bluetooth speaker.
Free Wi-Fi is available in all public areas of the hotel, and in every room.
After the exhilaration of the summits, dive into the outdoor pool,
heated both in summer and in winter, which stretches over 14 meters
with a spectacular view of the Mont-Blanc.
One can also relax in the 250m2 spa and hammam.
Enjoy our gym with state-of-the-art fitness equipment
and a heated outside swimming pool and Jacuzzi
with a breathtaking view of the vertical mountain peaks.
This is an advanced trip and you'll want to be well prepared!
Additional information provided upon booking.
1 Bottom – Midweight or Lightweight (preferably wool)
Wool Underwear
1-2 Tops – Midweight or Lightweight (preferably wool)
2-4 Pair of wool Ski Socks
Soft Shell, Wind shirt or Fleece (only one of these is necessary)
Soft Shell Pants
Lightweight, Waterproof/Breathable Jacket
Waterproof/Breathable Ski Pants
Warm Hat
Sun Protection
* Goggles
* Sun glasses – high quality
Regular & Lightweight Ski Gloves
Casual apparel
Mid layer Down Puffy
Mid layer Down Vest
ALPINE GEAR - SUPPLIED BY CONCEPT PRO SHOP:
Skis, "Mid Fat" all-mountain skis >93mm underfoot recommended.
Boots, "All-mountain boots", Ideally with dual purpose walk/tour mode, tech binding inserts, rubber sole.
Ski Poles (recommend telescopic poles, but not required)
SAFETY GEAR PROVIDED BY ALPIN LUXE GUIDES:
Avalanche Transceiver (single frequency, 457 kHz only, new batteries at start of trip)
Shovel (compact, lightweight, metal blade)
Probe
Group's 1st Aid Kit
Ropes
Technical Group Gear and VHF radio
ADDITIONAL GEAR PROVIDED BY ALPIN LUXE:
Alpine Touring Ski Back Pack
Water Bottles (1-2 L, wide mouth)
Hydration drinks, gels, energy bars
Sunscreen (SPF>25, Waterproof)
Lip Balm (SPF 15+)
Camera / Phone w/Ski app for data
Gloves or mittens
Buff or face and neck protection
Lodge clothing (comfy sweats)
Mountain casual apparel for dinners (jeans, sweaters)
Regular boots (mud or snow)
Bathing suit (sauna, spa, hot tub)
Casual sunglasses
Sunscreen and Chapstick
Basic toiletries
Airline Tickets
Passport
Digital Vaccine Passport*
*Check with us with regard to COVID Testing and Travel Requirements
Extra goggle lenses
Extra pair of gloves or mittens
GoPro or Camera
Book the Adventure of a Lifetime with Glen Plake!
stay up to date on the world's most breathtaking destinations, travel tips and more!