VIVO Resort Eco-Adventure
What if you could visit a resort with the solitude of a deserted island,
but the luxury accommodations and incredible cuisine of a world-class destination?
Discover the best kept secret in Mexico, Puerto Escondido,
one of the most unique experiences and beautiful destinations on Earth.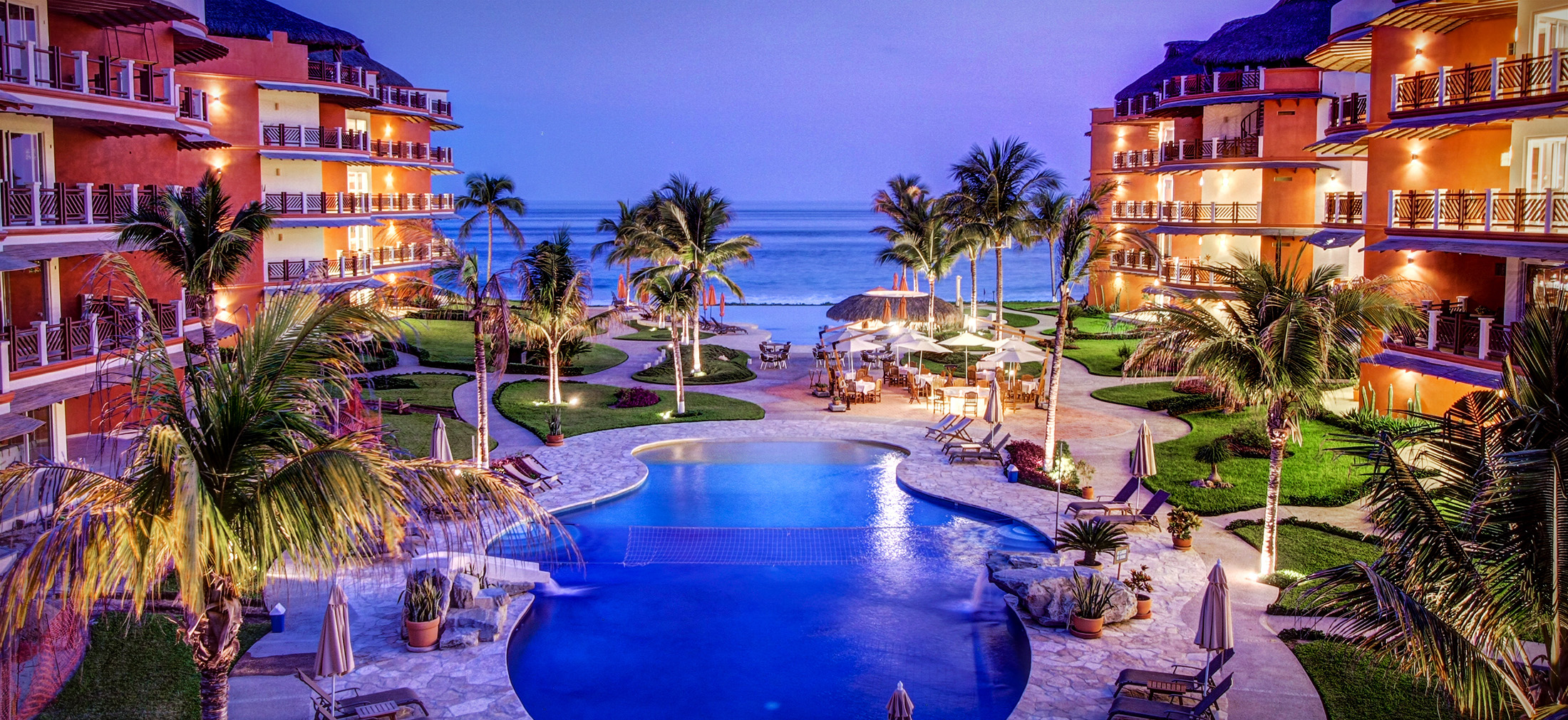 The Jewel of Oaxaca
Puerto Escondido is the crown jewel of Oaxaca's Emerald Coast. A little-known oceanfront paradise that has remained virtually untouched by large scale real estate development. The brainchild of two-time Canadian Olympian, Cary Mullen, the VIVO Resort provides a stable year-round climate, optimal Pacific Ocean temperatures, low hurricane risk, safety, and security on a completely pristine stretch of shoreline.
Escape to Paradise
The Vivo Resort is a stunning luxury vacation property on a 12 mile stretch of the Pacific Coast, in a community unspoiled by tourism, development, and social issues. The resort property features spacious condominiums, and nearly every amenity is open-air, surrounded by nature. This resort is a true adventure, offering authentic local hospitality, cultural immersion, and luxurious accommodations.
A Year-Round Escape
Amidst environmental beauty, the VIVO Resort is nestled between the Pacific Ocean and the southern tip of the Rocky Mountains. This location has one of the most consistent climates in the world to enjoy outdoor amenities like VIVO's 3 infinity pools, tennis and pickleball courts, water volleyball and kids' activity center. You can escape during both the winter and summer months to enjoy this slice of paradise.
Pamper Mind and Body
Reset your mind and invigorate your spirit with the unique spa and fitness facilities at VIVO. Designed to immerse you in the natural beauty of Southern Mexico's Pacific Coastline, the open-air concepts at VIVO bring you all the health benefits of fresh air, and all of the modern conveniences of a world-class resort. Here, science confirms what we have long known by instinct – the sea air, warm sunshine, and rhythm of the ocean awaken the body, mind, and spirit.
Authentic Cuisine
Immerse yourself in the unique culinary culture of the Oaxacan region. At VIVO Resort, you'll be treated to world-class cuisine at Ernesto's and Coco Thai: two farm and sea-to-table restaurants featuring local ingredients and authentic recipes. You'll discover beauty in the simplicity of the dishes, which showcase unique and flavorful ingredients. Experience the vibrancy of life as you learn how to fuel and hydrate yourself with a natural, high-quality diet.
Adventure and Explore
We provide ample opportunity during your stay at VIVO to experience the rich culture of Oaxaca. You can choose from a wide variety of eco-adventures, including hiking, mountain biking, dolphin & whale watching, water sports, horseback riding, surfing, visiting the local markets, and so much more. Our local guides will make every experience unforgettable, as you rediscover the excitement and adventure of life in these beautiful and secluded places.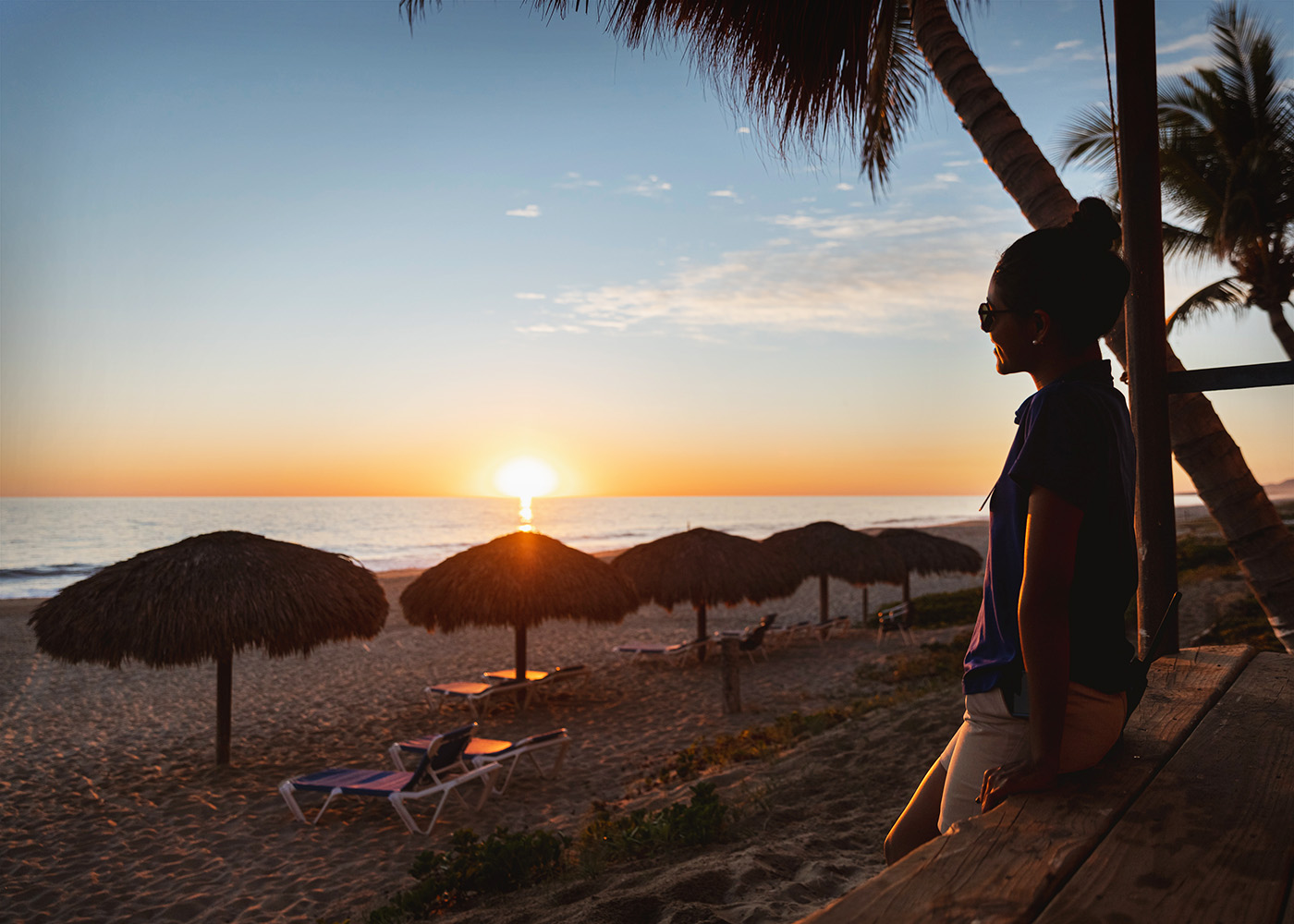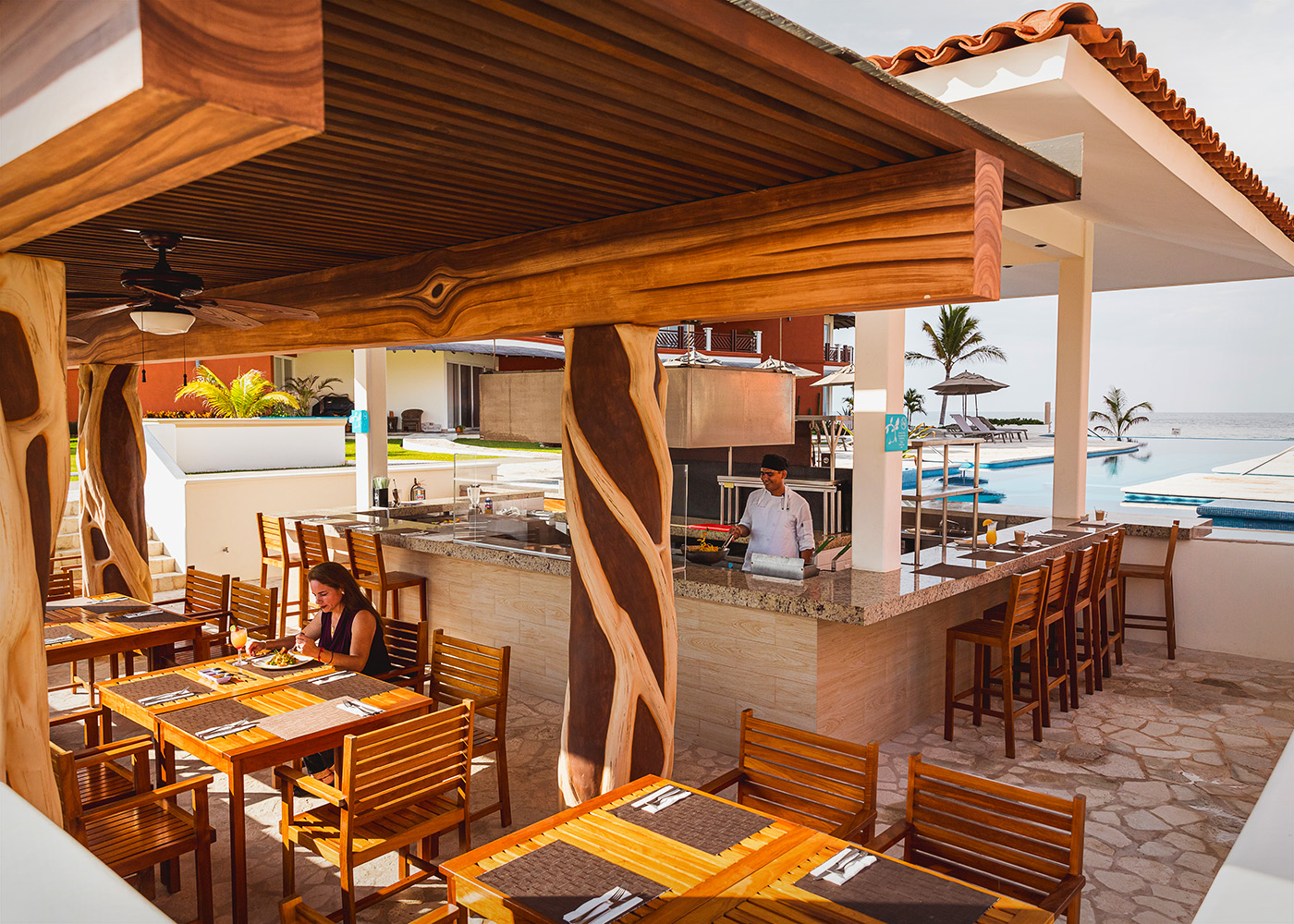 6 nights lodging at Vivo Resort Condominiums.
Sumptuous, healthy Breakfast.
Gourmet Farm- and Sea-to-Table Lunches and Dinners.
(includes any special dietary requirements).
Wine and/or Beer included with dinner.
Welcome reception upon arrival.
Up to 3 Eco-Adventure activities (see list under "Hotel Amenities")
Two full body massages during the week.
Full use of Oceanview Fitness – overlooking the ocean and pools.
Full use of Pickleball and Tennis Courts.
Farm to Table Cooking Class.
Bioluminescent Lagoon Tour at night.
Alpin Luxe Health & Wellness Gift Bag.
Transfer from Puerto Escondido Airport to Vivo Resort & return.
Gratuities.
NOT INCLUDED:
Flight to Puerto Escondido, Mexico.
Have a group? Ask about our Private Jet Option w/ONEflight (it's more affordable than you think).
Medical, evacuation and/or cancellation insurance.
We strongly recommend every guest who books an Alpin Luxe trip take out Travel Insurance that includes evacuation and medical coverage. Please click here for more information on Travel Insurance..
*Must provide proof of Insurance*
Only 6-10 spots available. Book early, this trip will sell out quickly!

Additional pricing options available at checkout
Want to skip the hassle of flying commercial? Try private air travel! With our ONEflight Affinity Membership, flying direct to Puerto Escondido in a group of 6+ is more affordable than you think. No waiting in airports, TSA, or Customs, and less COVID exposure risk. Contact us for a personalized quote today!
TRANSPORTATION TO VIVO RESORTS:
You can fly commercial from numerous North American cities to Mexico City, with connecting flights to both Puerto Escondido and Huatulco airports provided by Aeromar, Interjet, Volaris, and VivaAerobus.
Flight times from departing cities to Huatulco or Puerto Escondido vary depending on the departing city and flights chosen. Most online travel agencies include all the available flights.
Private Air Travel: With our ONEflight Affinity Membership, flying to Puerto Escondido direct from the USA with a group of six or eight people is more affordable than you think. Flying private means no waiting around in airports, TSA, delays and of course, social distancing during COVID.
AIRPORT TRANSFERS:
Airport transfers to and from VIVO Resort are as follows;
From Puerto Escondido Airport: a van for 1-7 people is MXN625 (approximately USD32.00) each way. Distance is 9 miles.
From Huatulco Airport: a van for 1-7 people is MXN2,530 (approximately USD128.00) each way. Distance is 60 miles.
2 World Class Restaurants:
Ernesto's Farm & Sea to Table
Coco Thai
Mezcalina's Sports Bar & Restaurant
Sense "Open Air" Spa by Elaina
53,000 sq. ft. VIVO Clubhouse
Oceanview Fitness Center
Business Center
Learning Library
Grand Palapa Events Center with live music and more
Tennis & Pickleball Courts
General Store
Shuttle Service to 5 locations in Puerto Escondido
2 Infinity Swimming Pools
Palmarito Beach (12 miles long)
Multi-purpose Sports Field
Full Kitchen
Ocean and Mountain Views
Satellite TV
Small Safe
Filtered, Sterilized Water (tap water is safe to drink)
In-suite Laundry
Bathroom Amenities
Spacious Private Balcony
Complimentary WIFI
Air Conditioner
Room Service
ECO-ADVENTURES & OUTDOOR ACTIVITIES
Local Markets, Cooking Classes, and Regional Culinary Tastings
Sport Fishing
Mountain Biking
Hiking to waterfalls, summits and more
Ziplining
Kayak / SUP's
Surf lessons
Coffee Plantation Tour
White Water Rafting
Horseback Riding
Bird watching at Manialtepec
Oaxaca Coast
Dolphin & Whale Watching
Chacahua National Park Lagoon Boat Tours
Bioluminescence Tour (nights)
Huatulco Bay Tours – on a catamaran
Incredible weather year-round means you can travel light. Temperatures in the 80's, comfortable humidity levels and what VIVO calls, "T-shirt days and no sweater nights."
Polo's / T-shirts / Casual Tanks and/or Tops
Shorts / Skirts / Bathing Suits
Lightweight khaki pants
Lightweight Sweater / Coverup
Basic Undergarments
Long Sleeve Swim Rash Guard Tops (Surfing)
Athletic Wear (Hikes / Workouts
Athletic Footwear (Pickleball, Tennis, Hiking)
Water Shoes / Sandals / Flip Flops
Caps / Hats for sun protection
Sunglasses
Sunscreen / Chapstick
Allergy Medication (if applicable)
Epi Pen (if applicable)
Ibuprofen / Tylenol / Charcoal Tablets
Daypack
Water Bottle
Basic Toiletries
Phone / Watch charger – same 110 Voltage as in the USA
Travel Insurance
Airline Tickets
Passport
Digital Vaccine Passport
*Check with us with regard to COVID Testing. Currently not required for entry into Mexico, but required for re-entry into the USA within 72 hours.
Neck Wallet
Universal Waterproof Phone Case
VPN
LifeStraw
Book Your Wellness Getaway Today!
stay up to date on the world's most breathtaking destinations, travel tips and more!