Tuscany Wine Tour & Cuisine
Heaven means different things to different people.
To us, it's spending time with good friends or family, eating incredible home cooked cuisine,
drinking fine wines and spending time at the spa and enjoying a historical culture.
Tuscany, Italy is our Heaven on Earth!

Italy's Heartland
Tuscany is a wealth of historic treasures widely considered the gold standard for art, food and wine. The region is full of picturesque villages nestled in rustic hills, protected parks and steeped in cultural heritage. Enjoy it's culinary delights with simple, authentic flavors, and its wines, ranked among the best in the world. There is truly no other place on earth like Tuscany – especially during the fall harvest season.
The Joy of Wine
Your tour of Italy's wine country will be led by our European-trained Sommelier, Taylor Johnson. She will share with you her passion for the local terroir, as you get to experience its fruits right at the source! Tour vineyards and enjoy gourmet meals with expertly selected wine varietals. You'll learn firsthand the role of wine in Italian life, and see how it has shaped their culture and brought people together through the centuries.
Gourmet Local Cuisine
Your week in Tuscany will forever shape the way you look at health and wellness. With its focus on fresh, healthy food, Italy ranks 6th on the list of countries with the longest life expectancy. You will not only learn to make regional Italian dishes taught by our in-house private chef, but also understand the traditions and food culture of Tuscany. Taylor will introduce you to wine pairings that will bring out the best local flavors.
Our Fairytale Escape
Our idyllic getaway for the week is Villa Germagnana. This old farmhouse, set amidst the rolling hills of Tuscany, is located within the protected nature reserve of the same name and enjoys a sublime panorama over the medieval villages of San Miniato and Montopoli Val d'Arno. Artfully restored to reflect its proud heritage, the picturesque 11th century lookout tower, still intact, keeps watch like a sentinel over the privacy of this property.
Restoration in Nature
The Villa, surrounded by lush lawns, the scent of flowers and herbs, a swimming pool with its soft colors typical of the local tufa rocks, allow you to ponder the moment relaxing with a glass of wine. It's a true sanctuary like nowhere else on earth. In addition to our wine and culinary tour, we offer ample opportunity for you to explore the beautiful countryside of Tuscany, through hiking, E-Biking, beach walks, touring local villages, and more.
The Alpine Lifestyle
When it comes to healthy and stress-free living, Europe is a leader in every category – from medicinal, curative and therapeutic remedies to the scientific development of products utilizing natural ingredients. Alpin Luxe is excited to introduce you to their Alpine Lifestyle. This week of immersion in the European culture of wellness and peaceful living will refresh your appreciation for life, and your connection to the natural world, long after you've returned home.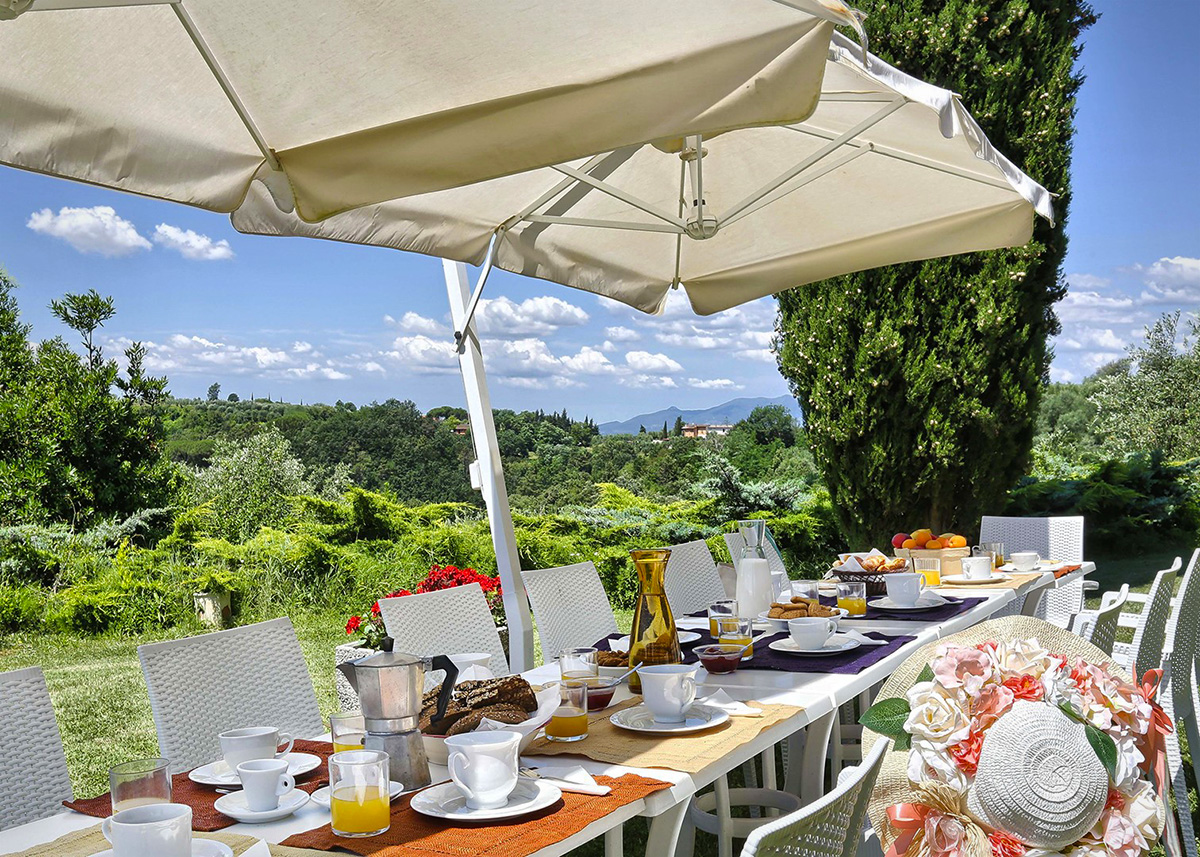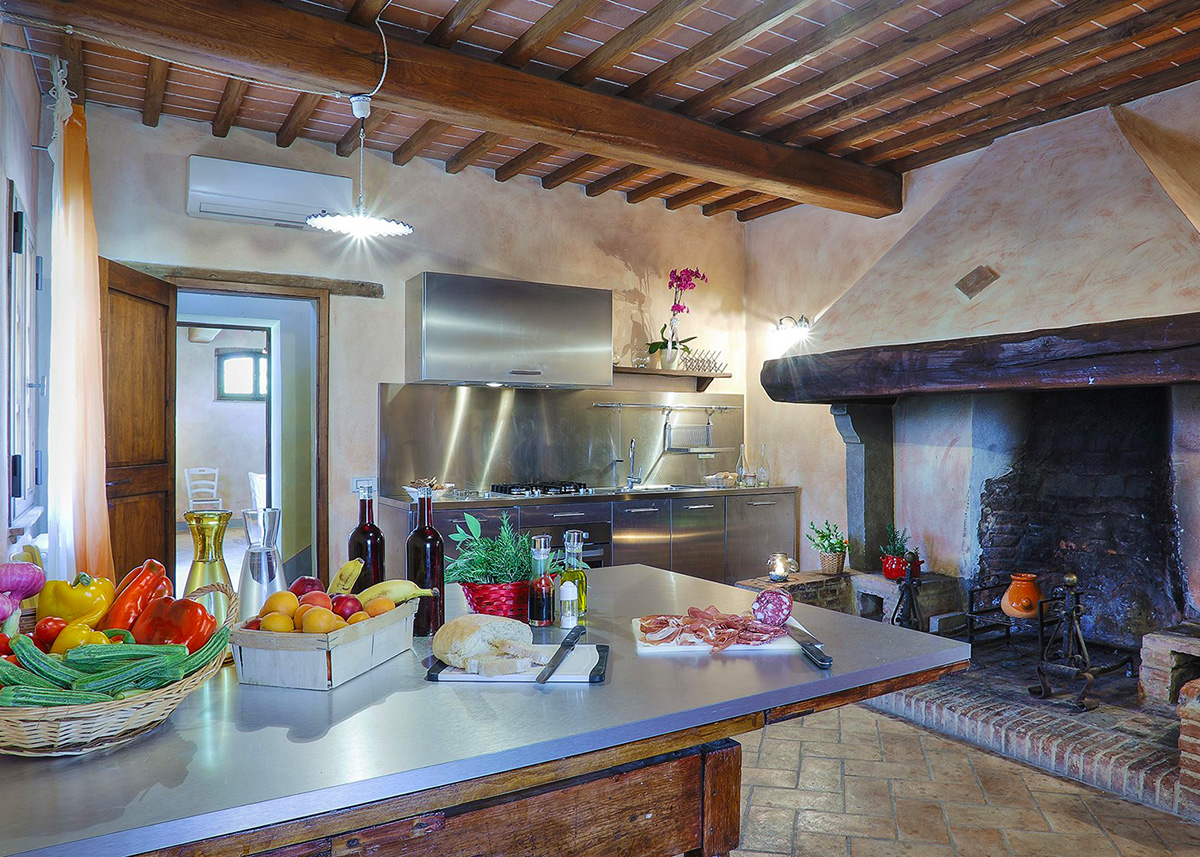 6 nights lodging at Villa Germagnana.
Incredible meals prepared by our private chef:
• Classic European Breakfasts.
• Lunches either prepared or on the go.
• Gourmet Farm and Sea to Table Dinners. (includes any special dietary requirements).
• Wine Pairings included with dinner.
Health & Wellness instruction.
Afternoon at the Grotta Giusti's thermal cave baths.
E-bikes for riding through the nature reserve.
A Farm to Table Cooking Class.
Alpin Luxe Gift Bag.
Transfers to and from Pisa or Florence Airports.
NOT INCLUDED:
Flight to Pisa or Florence, Italy.
Medical, evacuation and/or cancellation insurance. We strongly recommend every guest who books an Alpin Luxe trip take out Travel Insurance that includes evacuation and medical coverage. Please click here for more information on Travel Insurance..
*Must provide proof of Insurance*


We recommend flying into Pisa or Florence, Italy as the Villa Germagnana is only 30 to 45 minutes from the airport. Just let us know your travel itinerary and we will arrange to pick you up upon arrival. We will also arrange transportation back to the airport.
Villa Germagnana Amenities
2 main floors, plus Annex.
8 bedrooms / 10 bathrooms.
Multiple sitting rooms / Kitchen.
Apple Computer w/high speed internet.
Smart TV w/satellite.
iPod / iPhone speakers.
American and Expresso machine.
Swimming Pool.
5,000 sq. ft of gardens
Pomegranate, Olive and Cypress trees.
Roses and herbs.
Organic vegetable garden.
BBQ and wood oven.
Hiking
E-Biking
Golf
100-acre nature reserve
Thermal Cave Spa (50 minutes)
Mediterranean seaside (45 minutes)
Vineyards for wine tasting
Florence (60 minutes)
Early to mid-October is a great time to visit Tuscany. Fall colors, cool, and sunny days are ideal for hiking, biking and wine tasting. Temps can range from 55° to 65°F with the occasional rain shower.
Long Sleeve Shirts / Pants
Sweater / Fleece Top
Swimwear
Breathable Gore-Tex Rain Jacket
Down Puffy or Vest
Athletic Wear (Hikes / Workouts)
Athletic Footwear (Hiking / Walking)
Sandals / Flip Flops (for pool, beach and spa)
Bathrobe
Caps / Hats for sun protection
Sunglasses
Sunscreen / Chapstick
Allergy Medication (if applicable)
Epi Pen (if applicable)
Ibuprofen / Tylenol
Daypack
Water Bottle
Basic Toiletries
Phone / Watch / Tablet Charger
Voltage Converter (Europe uses 220V)
Travel Insurance
Neck Wallet
Universal Waterproof Phone Case
VPN Service
Airline Tickets
Passport
Digital Vaccine Passport (optional)
Experience Exquisite Cuisine and Culture
Contact us for custom dates and pricing:
stay up to date on the world's most breathtaking destinations, travel tips and more!