Steep & Deep with
Dan Egan & Marcus Caston
Engelberg, Switzerland is one of the top powder and freeride destinations
in the world! With huge skiable vertical of 2000m, Engelberg has over 50 miles of
slopes, ultra-modern ski lifts and stunning views of the Swiss Alps!

Big Mountain
Engelberg Titlis is world-class big mountain skiing at its finest. There are 2000m of off-piste freeride terrain in one of the most dramatic backdrops of the Swiss Alps. This resort is home to the famous BIG 5 - some of the wildest off-piste routes on the planet – accessible with certified guides who take you to their secret stashes!
Serious Powder
Only Mother Nature knows (and perhaps a few alte Schweizer bergmänner) why this resort gets freaky storms that dump tons of snowfall on the upper mountain - over 10 meters on average! Having experienced it with the late, great Shane McConkey, getting snowed out for a day or two reaps 100X the rewards when the sun comes out!
Authentic Swiss Cuisine
In America, we call it food. In Europe, they call it "gastronomy" which is cuisine with the freshest, purest ingredients and farm to table meats / cheeses for dishes designed to exceed your expectations. The chefs in resorts like Engelberg have a passion for gastronomic trends – always inventing tasty dishes and adapting them to their audience.
The Hall of Famer
World-renowned free skier, pioneer of extreme sports and certified mountain guide,
Dan Egan
, has appeared in thirteen Warren Miller ski films and is known for skiing the most remote regions of the world with his brother John. In 2001, Powder Magazine named him one of the most influential skiers of our time and in 2016, he was inducted into the US Skiing & Snowboarding Hall of Fame.
Carver Extraordinaire
Another Warren Miller Films disciple, professional skier and content creator,
Marcus Caston
, takes us into the next gen of great free skiers whose art of skiing is developed through a combination of creative expression and athletic performance. Give him any surface and he'll turn'em and burn'em - all with a big smile on his face! Your experience with him during this week will be unforgettable!
The Bellevue-Terminus
Impressive. Unconventional. The Grand Dame. A luxury hotel with roots in the Belle Époque, and a heart and soul of the future. The Swiss are masters at melding old world charm and modern elements to create something very special. Completely renovated in 2017, this charismatic hotel combines quality, comfort and lifestyle – all the luxury you need after a hard day on the slopes.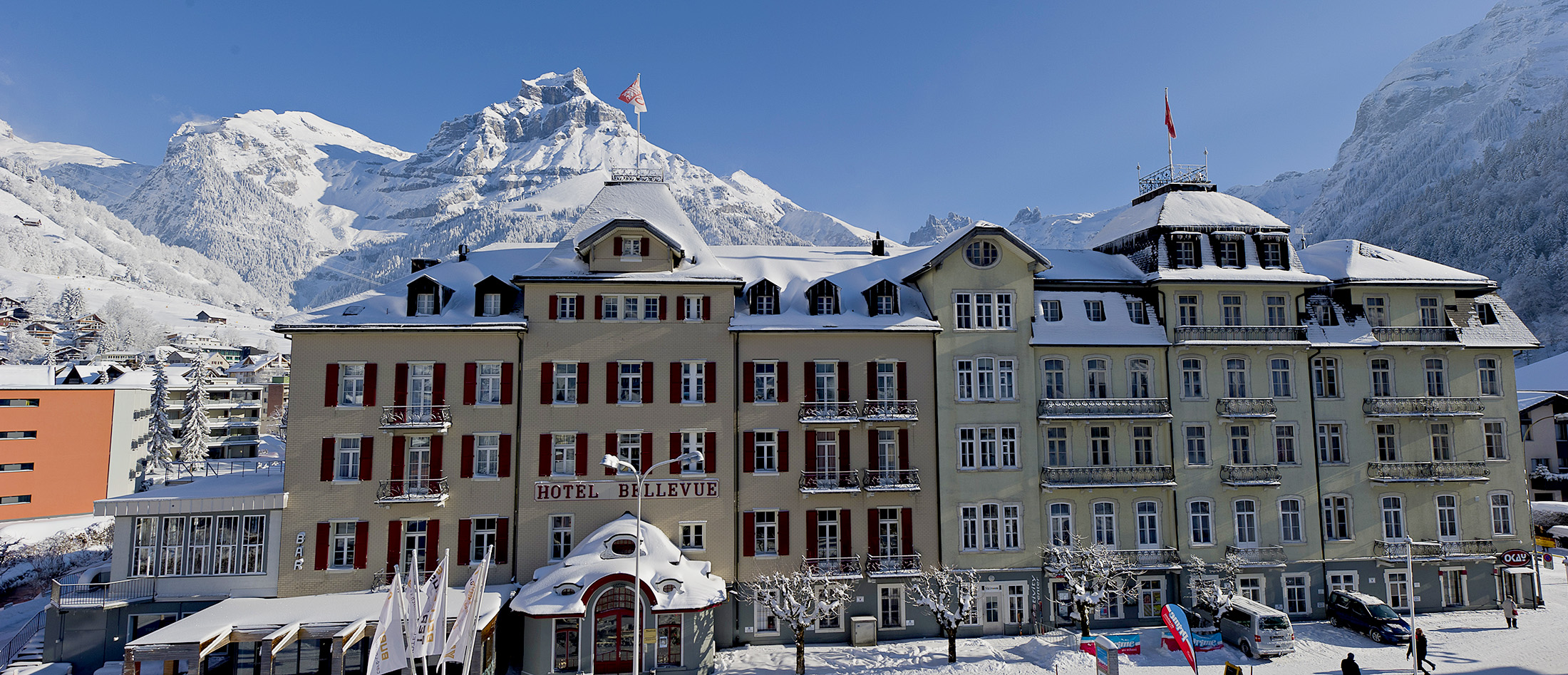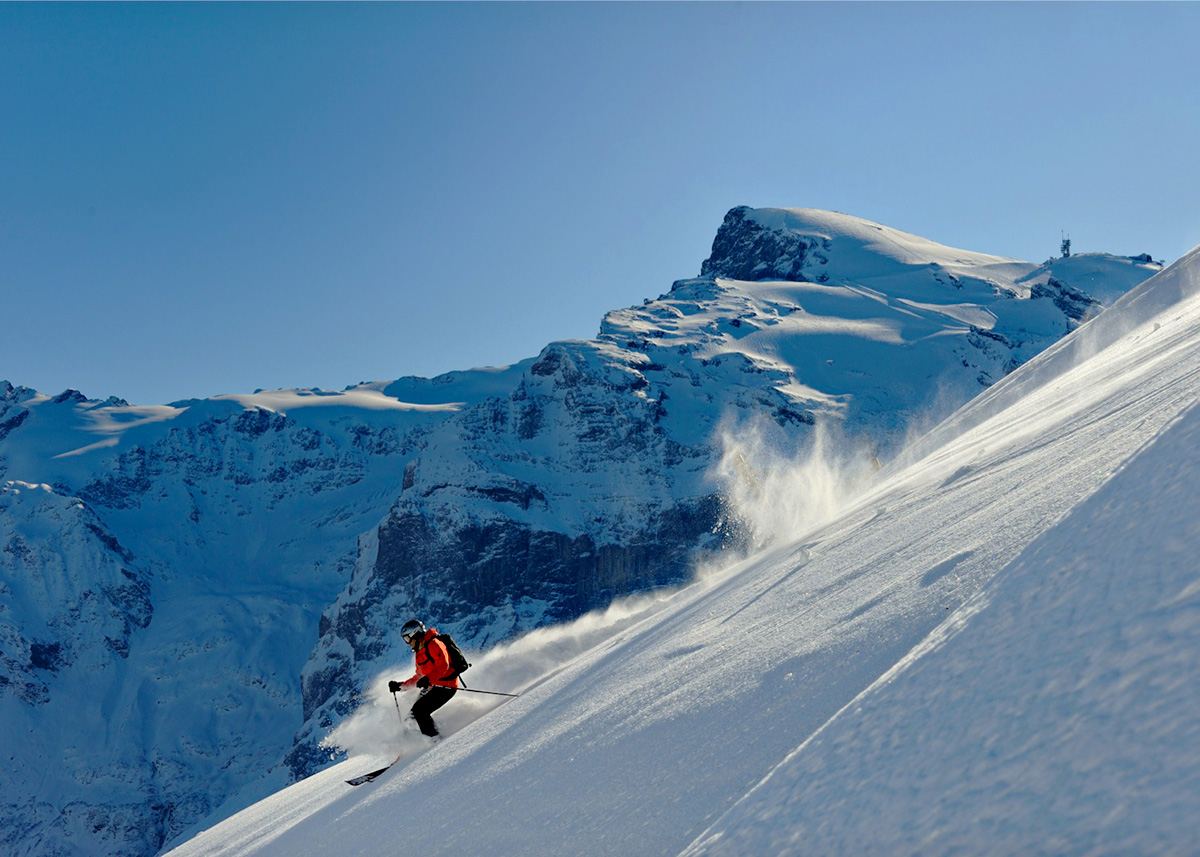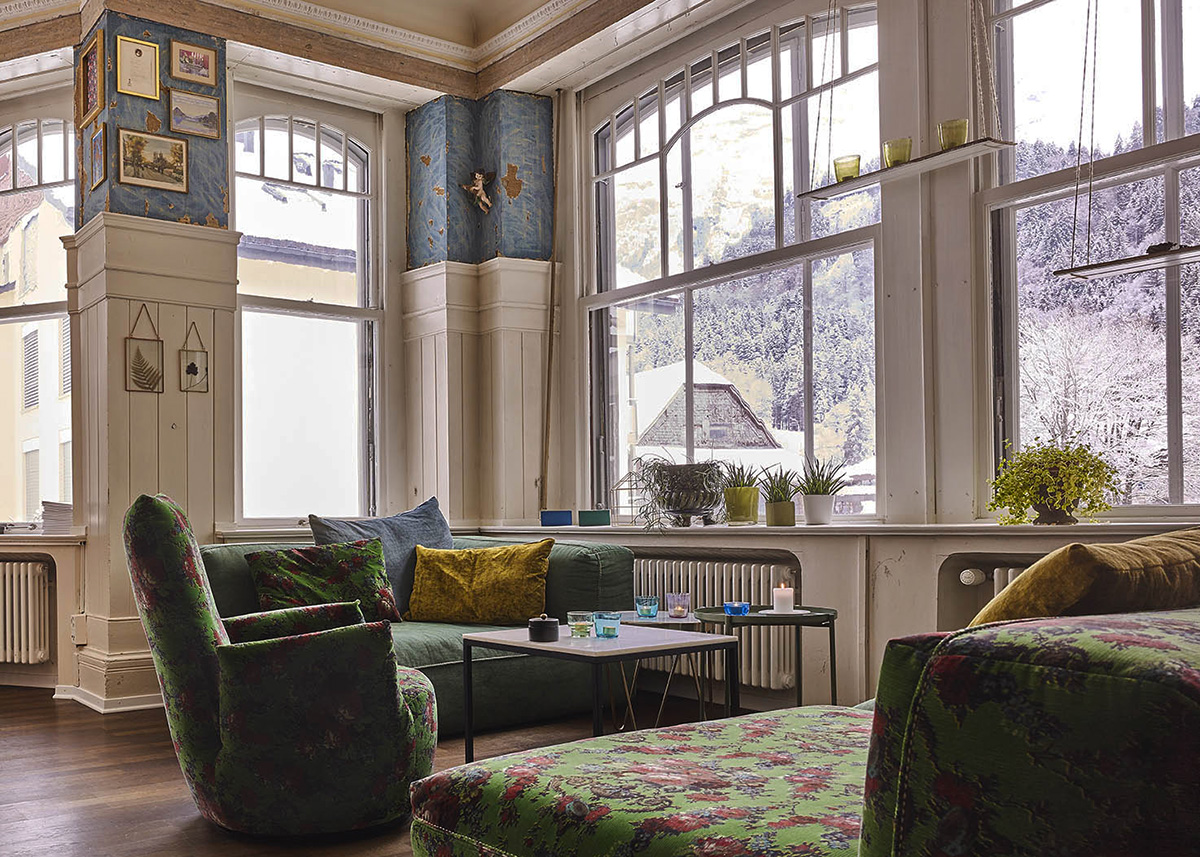 6 nights lodging at the beautiful Bellevue-Terminus Hotel.
Magnificent, healthy Breakfasts.
 4 Gourmet dinners at the Living Room at Bellevue-Terminus Hotel.
Welcome reception upon arrival.
Engelberg Ski Pass – 6 days of skiing.
On mountain coaching, hosting, guiding.
Alpin Luxe Skilebrity Gift Bag.
Gratuities.
NOT INCLUDED:
Flight to Zurich, Switzerland.
Transportation to Engelberg.
Medical, evacuation and/or cancellation insurance. We strongly recommend every guest who books an Alpin Luxe trip take out Travel Insurance that includes evacuation and medical coverage. Please click here for more information on Travel Insurance.
*Must provide proof of Insurance.
Alcoholic beverages.
Specific Spa treatments.
On-mountain lunches.
Skis, helmet, gloves, goggles and ski boots.
Only 8-12 spots available. Book early, this trip will sell out quickly!

Additional pricing options available at checkout
Do you have a husband, wife or significant other who would like to accompany you on a fantastic trip to Europe? We offer a discounted rate for those who don't ski, but would like to experience Europe, the crisp air, incredible spa and fitness facilities and the beauty available at our 5-Star resorts.
As with most beautiful European resorts, travel is quite easy. The scenery is amazing and both the roads and trains are excellent.
There are three ways to reach Engelberg: Rental Car, Bus or Train. In advance of your trip, we suggest contacting Rome2Rio.com to make reservations for door to door service from the Zurich airport to the Bellevue-Terminus Hotel.
Bellevue-Terminus Hotel Amenities
Balcony
Oak parquet
Double/Twin bed (2 mattresses 90X200)
Rain shower + Bathtub
Towels by Möve
Bed linen from the textile factory in Root
Flat screen TV
Safe
Fridge
Free Wi-Fi available throughout the building
Base layers (wool is best for travel)
Ski socks (wool or compression)
Mid-layer (wool, down vest or fleece pullover)
High quality outerwear (Wool, Gore-Tex or similar)
Gloves or mittens
Helmet (recommended)
Warm headwear (for off-piste)
Goggles
Buff or face and neck protection
Ski or snowboard boots
Lodge clothing (comfy sweats)
Mountain casual apparel for dinners (jeans, sweaters)
Regular boots (mud or snow)
Bathing suit (sauna, spa, hot tub)
Sunglasses
Sunscreen and Chapstick
Basic toiletries
Airline Tickets
Passport or ID
Digital Vaccine Passport*
*Check in with us regarding COVID Testing and Travel Requirements
Extra goggle lenses
Extra pair of gloves or mittens
GoPro or Camera
Book Your Engelberg Ski Experience Today!
stay up to date on the world's most breathtaking destinations, travel tips and more!